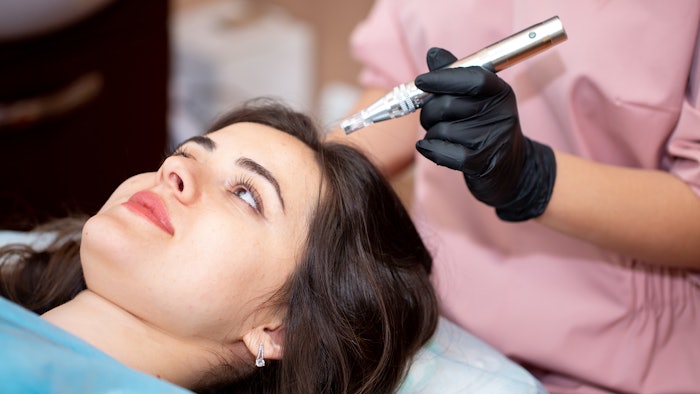 Vera - stock.adobe.com
Microneedling has grown in popularity as a noninvasive way to treat a variety of skin concerns, from reducing scarring to treating fine lines and wrinkles. While there are several types of microneedling products, they all have a key feature—they contain many small, thin needles. As microneedling wounds heal, the skin is left smoother and brighter with reduced wrinkles. 
Microneedling use has expanded into hair loss for its ability to stimulate the scalp and hair follicles directly, providing a targeted approach to hair restoration. Combining microneedling with PRP, oral or topical solutions can further enhance the results and promote hair growth.
Related: The Connection Between Hair Loss in Women and Various Health Conditions
How It Works
Rolling a microneedling handpiece outfitted with tiny needles across patchy areas on the scalp creates microscopic wounds, William Gaunitz, FWTS, certified trichologist and founder of Advanced Trichology, told New Beauty. The punctures in the upper dermis and into the dermal layer stimulate growth factors and tissue recovery, resulting in the body rebuilding the scalp and hair follicles.
By creating microchannels in the scalp, microneedling helps enhance the absorption of topical minoxidil, potentially increasing its efficacy. Additionally, the micro-injuries induced by the needles may trigger a wound-healing response, leading to increased blood flow and collagen production, according to an article from Real Simple.
Positive Results
The initial results likely won't be seen for about six weeks. However, once new growth becomes evident, it is critical to continue with the treatments to achieve maximum results. Most patients require several treatments to achieve ideal results and then continue with maintenance treatments every three to 12 months.
Studies currently indicate that there are positive results when microneedling is used alongside topical or oral alopecia medications. When microneedling is utilized as an adjunct therapy for alopecia, results present an increase in hair density, thickness, and the quality of hair regrowth, Veronica Joseph, an IAT-certified hair practitioner, told Byrdie.
Related: Oral Minoxidil is Gaining Popularity as an Alternative Hair Loss Treatment
Microinfusion is another popular cosmetic procedure that uses tiny needles on the skin in order to achieve a healthy and radiant complexion. Microinfusion involves about 20 to 30 hollow needles that deliver nutrients directly into the dermis. This may lead to more immediate results and less downtime than microneedling, according to a 2016 study.
Scalp microneedling is generally well-tolerated, with most patients experiencing mild discomfort during the procedure. Topical numbing creams are often applied before the treatment to minimize any potential discomfort.
Scalp Microneedling Global Market Projections
According to Coherent Market Insights, the global scalp microneedling market was valued at $179.5 million in 2022 and is expected to increase to $336.3 million by 2030, growing at a CAGR of 8.2% over the forecast period. The rising prevalence of hair loss disorders, high cases of chemotherapy-induced hair loss, and increasing clinical studies are some key market drivers identified in the report.
Major players operating in the market include Dermapen, Dermaroller GmbH, Zcalp, Envision Medical Spa, MDPen Fractional Microdermal Needling, DermaConcepts, ConceptSkincare, Ramboll Environ, Inc., Edge Systems LLC., Weyergans High Care and Bomtech Electronics Co., Ltd.