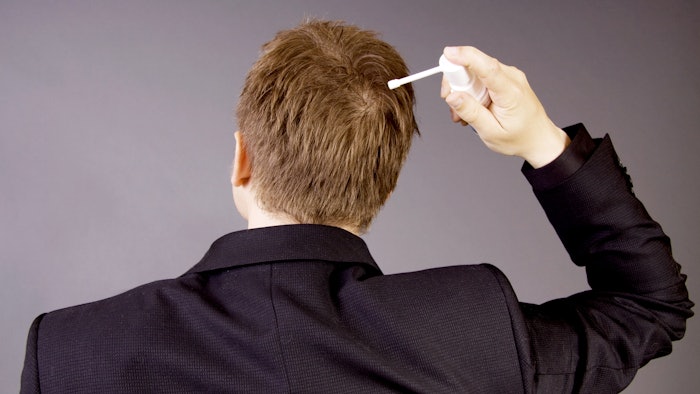 Minoxidil is one of the best-proven treatments for male and female pattern hair loss. But there may be a way to improve its efficacy further through the addition of topical flutamide. Researchers from the department of dermatology at Isfahan University of Medical Sciences, Isfahan, Iran, published the outcomes of their study, "Comparison between "5% minoxidil plus 2% flutamide" solution vs. 5% minoxidil solution in the treatment of androgenetic alopecia" in the Journal of Cosmetic Dermatology (February 13, 2022).
Related: Vitamin D Plus Minoxidil Superior to Monotherapy
They evaluated the efficacy of combination therapy with topical 2% flutamide plus 5% minoxidil vs. %5 minoxidil alone in the treatment of the androgenetic alopecia through a randomized, double-blinded clinical trial that included 40 patients with androgenetic alopecia.
Subjects were randomized to receive either topical minoxidil (5%) vs. topical flutamide (2%) plus minoxidil (5%) for six months. The investigators compared mean hair density, mean hair thickness and patient satisfaction.
Related: LLLT Improves Efficacy of Minoxidil for Androgenic Alopecia
They found that the topical flutamide plus minoxidil solution was significantly more effective than minoxidil in all three parameters: hair density, hair thickness and patient satisfaction and recommended more prolonged studies with higher number of patients and use of different vehicles to verify the superiority of the combined treatment solution.