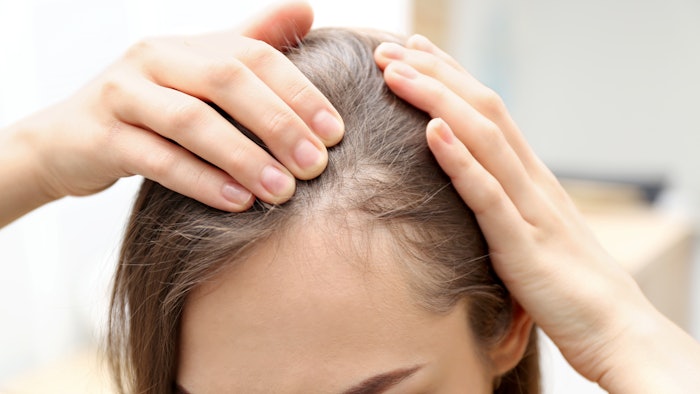 Newly released research suggests that hair loss in women can also be associated with having other common medical conditions. Board-certified dermatologist and professor of dermatology at Howard University College of Medicine, Valerie D. Callender, MD, FAAD, will discuss the types of hair loss seen in women with darker skin tones, common types of medical conditions associated with hair loss and treatment options at the the Annual Meeting in New Orleans. 
"Research shows that women who experience hair loss can also have other medical conditions like diabetes, acne, and breast cancer," said Dr. Callender. "By recognizing the signs of hair loss and seeing your dermatologist as soon as possible, you may be able to limit the progression, hold on to the hair you have, and discover any other underlying medical conditions you may have."
CCCA in Women with Darker Skin Tones
Central centrifugal cicatricial alopecia (CCCA), which causes hair loss in the center, or crown, of the scalp, is the most common type of hair loss observed in women with darker skin tones. According to Dr. Callender, this condition is estimated to affect nearly 15% of Black women. Early detection is essential to preserve and protect the hair, as CCCA can cause scarring by damaging hair follicles. 
A board-certified dermatologist can diagnose the type of hair loss and determine the best course of treatment for CCCA, which can include antibiotics, topical steroid medication or corticosteroid injections. These medications may give patients relief from the pain, tenderness, and itching they're feeling in an affected area, as well as prevent scarring from getting worse.
Related: Hair Loss Gets Celebrity Attention at the 2023 OSCARS
Conditions such as breast cancer, high cholesterol, diabetes, and high blood pressure are common among Black women with CCCA, says Dr. Callender. If a patient has CCCA, a dermatologist may be able to tell them if the other symptoms are caused by a dermatologic condition, or if they are a symptom of another disease.
Female Pattern Hair Loss
Another common type of hair loss is female pattern hair loss, which affects millions of women of all skin tones. In female pattern hair loss, the hair thins on the top of the scalp, and it usually starts with a widening of the center hair part. This type of hair loss is hereditary, and many women who have female pattern hair loss also have acne due to an increase in hormones, according to Dr. Callender.
"When treatments are not effective to prevent hair loss, a permanent solution is to consider a hair transplant, which creates natural-looking results," said Dr. Callender. "Hair transplants are most effective in patients with traction alopecia and female pattern hair loss. While patients with CCCA aren't always ideal candidates for a hair transplant due to scarring, it is possible for them to have success."
It is especially important for women with any type of hair loss to consider the ingredients in their products. Women with darker skin tones, particularly those of African descent, have hair that tends to be coarse, dry, and fragile, according to Dr. Callender. Some of the shampoos for dandruff and other scalp disorders can further dry out hair, leading to breakage. Patients with darker skin tones should use shampoos and hair products with ingredients that moisturize their hair such as vitamins A and E, jojoba oil and shea butter.