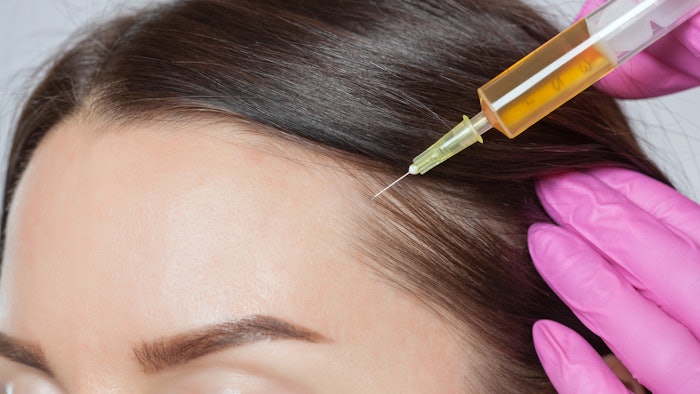 Platelet-rich plamsa (PRP) injection is a promising modality for hair regeneration in female pattern hair loss (FPHL). However, there has not been a standard protocol for PRP preparation methods, so researchers Nayera Hassan Moftah, MD, Nour EL-Eman Taha, MSC, Alshaymaa Mohammed Alhabibi, MD, and Mervat Hamdino, MD, performed a comparative study to optimize standard PRP preparation and evaluate its clinical efficacy in FPHL. They published their findings in the Journal of Cosmetic Dermatology (February 2022). 
Related: [Hair Growth] Vitamin D + Minoxidil Superior to Monotherapy
The research team enrolled 40 female patients with FPHL. They were divided randomly into four equal groups. Each group received three monthly intradermal injections of PRP prepared by different methods (numbers of spins, centrifugation speeds, type of centrifuge and the size of the PRP tube). Patients were evaluated by trichoscan before and one month after the third session for number of terminal and vellus hairs and average hair width. 
Related: SVF Does Not Enhance Efficacy of PRP
There was a statistically significant increase in platelet count in the PRP prepared by a combination of digital centrifuge, large-sized sodium citrate tube and low centrifugation speed (900 rpm). All patients showed statistically significant increases in percentage of terminal hair and average width of hair after treatment, without any statistical significance shown between the four different groups.