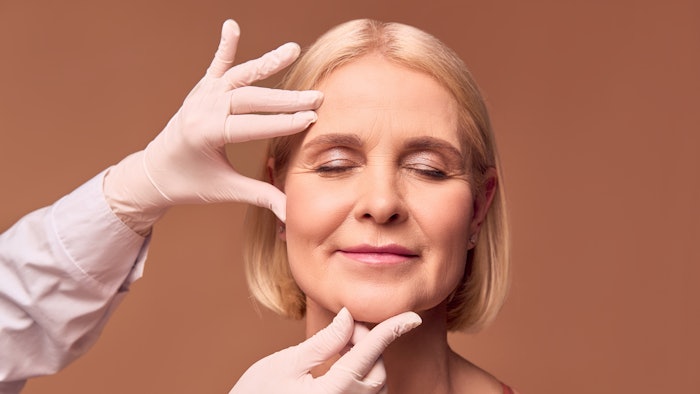 Velista production - stock.adobe.com
The markets for dermatology devices and aesthetic lasers are further enhanced by the popularity of minimally invasive procedures. We looked at data from Research & Markets, The Insight Partners and Future Market Insights to get a better scope of the global market for noninvasive procedures and how it connects to the evergrowing demand for aesthetic devices, both in the procedure room and at home.
Related: Gen Z Shows Rising Interest in Minimally Invasive Tweakments
The Demand for Minimally Invasive Treatments
Noninvasive procedures are growing in popularity according to a report from Research and Markets on the minimally invasive cosmetic procedure market and growth opportunities within the segment. 
The report discusses the contrast in post-operative care for invasive and noninvasive procedures and the risk levels for the different types of procedures. Minimally invasive procedures can provide lower health risks post-operation, shorter recovery times and a boost in patient's mental health, according to the report. Traditional cosmetic surgeries often entail extended hospital stays, higher postoperative risks, lengthier recovery periods and increased costs compared to minimally invasive techniques.
The report suggests that patients undergoing procedures like abdominoplasty, facelifts, and other invasive cosmetic surgeries may be at risk of experiencing postoperative depression and anxiety. In contrast, patients opting for minimally invasive aesthetic procedures face lower or minimal treatment risks and typically have minimal downtime post-procedure.
The differences have made smaller noninvasive "tweakments" more popular, with a rising demand for quick results that improve skin health and boost confidence. 
The Aesthetic Lasers Global Market
A report on the Aesthetic Lasers Market from The Insight Partners projects the market to reach $7.341 billion by 2030, growing at a CAGR of 12.3% during the forecast period.
The market is segmented into ablative lasers and non-ablative lasers. In 2022, the non-ablative lasers segment held a larger share and is expected to record a faster CAGR during 2022–2030. Based on application, the aesthetic lasers market is classified into facial and skin tightening, pigmentation disorders, tattoo removal, hair removal, scar treatment, body sculpting and fat reduction, acne reduction and others.
In 2022, the facial and skin tightening segment held the largest share of the market, and the hair removal segment is expected to register the highest CAGR during 2022–2030. The dermatology clinics segment is estimated to register a CAGR of 12.7% during 2022–2030.
Dermatology Devices Global Market
The dermatology devices market is projected to surpass $9.803 billion, growing at a CAGR of 6.5%, according to a report from Future Market Insights. The increased adoption of advanced skin care treatments, such as laser therapy, light therapy, cryotherapy, etc., a shift towards personalized skin care solutions and the integration of innovative technology are key market drivers identified in the report.
Laser therapy machines have gained popularity for their effectiveness in treating various skin conditions, spurring their adoption among dermatologists and medical spas. Microdermabrasion devices are becoming a go-to option for individuals looking for non-invasive exfoliation, contributing to their widespread adoption, per the report.
Cryotherapy equipment is gaining traction for its role in skin lesion treatment and pain management, attracting medical practitioners and beauty clinics. Dermatological lasers are at the forefront of advanced skincare procedures, encouraging their adoption for skin resurfacing and scar reduction. IPL devices are in high demand for their versatility in addressing various skin issues, contributing significantly to their adoption and sales growth, as identified in the report.
More: Dermatologists Have the Most Influence on Patient's Decisions for Cosmetic Procedures: ASDS Survey
LED light therapy devices are increasingly used for their efficacy in acne and anti-aging treatments, boosting their adoption in both clinical and home settings. Radiofrequency machines are sought after for skin tightening and wrinkle reduction and skin tightening devices are growing in popularity as a non-surgical option for skin rejuvenation.
The market is witnessing a shift towards personalized skincare, with dermatology devices tailored to individual skin types and concerns gaining traction. The integration of smart technology into dermatology devices, including app connectivity, portable dermatology devices and data tracking, is reshaping the market and enhancing user experiences. There is also a growing demand for dermatological devices that offer multiple benefits, support sustainable solutions, remote consultations and enhanced accessibility.
Market Share by Region
The United States held a 17.5% market share in 2023, driven by strategic collaborations between manufacturers and healthcare institutions, ensuring the availability of state-of-the-art devices across the nation, per the report.
The United Kingdom's market commanded a 7.4% market share in 2023, primarily propelled by the flourishing specialty clinics industry. The market experiences steady growth as consumers opt for treatments like skin tightening and laser therapy.
China's dermatology devices market made up a 7.2% market share in 2023, primarily driven by the expanding aesthetic industry. The Chinese population's increasing disposable income and growing awareness of skin care have led to a surge in demand for dermatology devices. Laser therapy machines are in high demand for various treatments, including hair removal and scar reduction.
India's dermatology devices market captured a substantial 5.8% market share in 2023, propelled by the burgeoning field of cosmetic dermatology. The market witnessed significant growth as consumers increasingly seek aesthetic enhancements and non-invasive skin treatments.
Japan's dermatology devices market holds a 3.7% market share in 2023. The nation is witnessing a surge in demand for dermatology devices, particularly for skin rejuvenation and anti-aging treatments. Japanese consumers place a high premium on skin care and seek noninvasive and effective solutions. With a strong focus on quality and safety, Japan continues to be a promising market for dermatology devices.
Germany's dermatology devices market made up a notable 2.9% market share in 2023, underscored by the nation's reputation for precision and quality. German manufacturers are renowned for their advanced technologies, particularly in laser and cryosurgery devices. The market thrives on a strong emphasis on patient safety and healthcare standards, attracting patients seeking reliable and effective treatments, per the report.
Significant Milestones & Market Opportunities
The report indicates that key players are seeking to penetrate emerging markets like Asia-Pacific, Latin America and the Middle East, leveraging the rising demand for dermatology devices. Partnerships with dermatologists, healthcare institutions and aesthetics clinics can enable key players to co-create and promote dermatological solutions.
Some significant milestones within the dermatology devices market identified in the report include Lumenis receiving FDA clearance for its new PiQo4 picosecond laser for tattoo removal, pigmentation treatment and wrinkle reduction; Candela's collaboration with The Vascular Birthmarks Foundation to develop a new treatment protocol for port-wine stains using its VBeam Perfecta laser and the new launches of Alma Lasers' Alma PrimeX device for body contouring and skin tightening and Canfield's VISIA AI system that provides a comprehensive analysis of the skin, including wrinkles, fine lines, pores,and pigmentation.