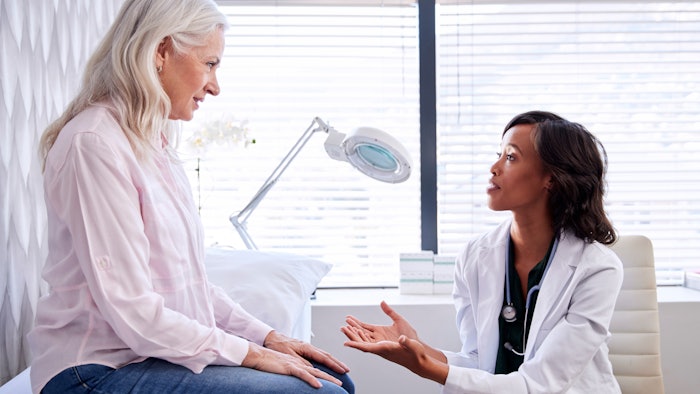 Monkey Business - stock.adobe.com
The American Society for Dermatologic Surgery (ASDS) has revealed its 2023 ASDS Consumer Survey on Cosmetic Dermatologic Procedures exploring the factors that influence consumers' decisions when choosing a provider, cosmetic procedures and skin care products. The report indicates that board-certified dermatologists consistently rank first among influencing factors and the specialty in which a physician is board-certified is increasing in its influence.
Related: ASDS Survey Reveals the Pandemic's Impact on Dermatology
Biggest Skin Care Concerns
The ASDS survey found that 70% of consumers are considering a cosmetic procedure, with a desire to look younger and more attractive as the biggest influencers. Consumers might wait to get a cosmetic procedure because of cost, potential pain and concerns about side effects, safety and if they will actually obtain their desired results. 
Per the report, 87% of respondents were concerned about any excess weight on their body, 80% were concerned with skin discoloration or texture, 79% expressed concern about undereye wrinkles and excess fat under the neck and 72% were concerned about cellulite, a new leading concern compared to previous years. 
Related: [VIDEO] How to Successfully Treat the Underlying Causes of Under-Eye Puffiness
The top five most popular procedures were laser hair removal, laser/energy-based devices for skin tightening and wrinkles, body sculpting, injectables and laser/energy-based devices for skin tone, facial redness and scars. 
Survey respondents who had already undergone cosmetic procedures gave top satisfaction ratings to vein treatments, wrinkle relaxers, laser tattoo removal, chemical peels, microdermabrasion, injectable fillers and many newer procedures including platelet-rich plasma (PRP), thread lifts and muscle sculpting, per the report.
The Influence of Dermatologists and Social Media
Dermatologists continue to have the most influence over patients' decisions on cosmetic procedures and skin care purchases. Of the patients who saw a dermatologist, more than 70% received treatment from an ASDS member. Consumers reported that the top factors influencing their provider selection include price, specialty, before-and-after photos, physician referral, friend referral and level of licensure. 
Dermatologists were the physicians of choice in nine procedural categories, including injectable fillers and wrinkle relaxers, PRP, microneedling, chemical peels, vein treatments, thread lifts, micro-coring and laser tattoo removal.
Social media platforms held the top three spots in digital resources for skin health decisions, with more than half of consumers saying a provider's social media presence impacts their decision to schedule an appointment. Per the report, 73% of consumers follow the social media account of the provider they are seeing or considering seeing while 84% indicate that rate and review websites impact their decision on choosing a cosmetic procedure provider.
"For 10 years, this survey has offered valuable insights into what consumers are looking for in a cosmetic provider, and the 2023 results indicate that they continue to rank board-certified dermatologists at the top of the list in multiple treatment categories," said ASDS President Vince Bertucci, M.D., FRCPC. "As physicians, we take great pride in providing medically sound information to help our patients make the best decisions for their unique skin health and aesthetic goals, and we recognize the gravity of our influence in that process. Our primary goal is patient safety and providing the best possible outcome, so it's encouraging that these survey results reinforce those efforts."
Read the full survey results and view the infographic on ASDS's official website.