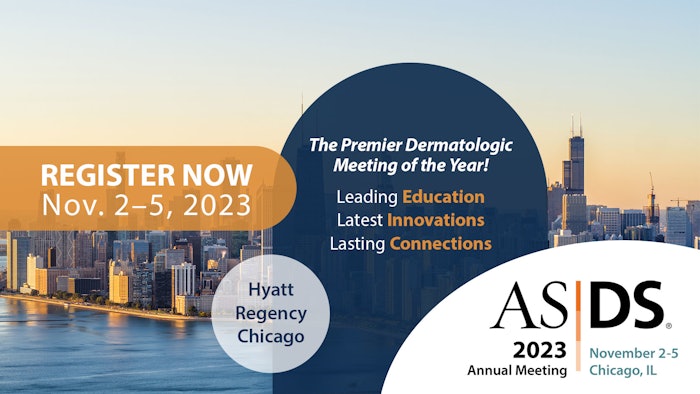 Photo courtesy of ASDS
The American Society for Dermatologic Society (ASDS) has opened registration for the 2023 ASDS Annual Meeting, taking place November 2 to November 5 at the Hyatt Regency Chicago. The event has early-bird pricing until September 1, allowing ASDS member dermatologists to save $200 on the general registration fee.
The 2023 ASDS Annual meeting will feature more than 80 educational sessions for board certified dermatologists–including 35 brand new content areas, six plenary sessions and eight hands-on workshops, cadaver labs and patient demonstrations. Sessions are categorized by content made to provide meaningful material for dermatologists at all career stages, from residents to tenured members.
Related: Highlights from the 2022 ASDS Conference
Attendees who plan to arrive by Wednesday, November 1, can register for the meeting's pre-conference sessions: "Chemical Peel Workshop," "Facial Anatomy for Cosmetic Injections Cadaver Lab," "Innovation and Entrepreneurship Workshop" and "Unplugged: Straight Talk About Devices and More."
The keynote lecture, "Teamwork and Leading High-Performance Teams: The Five Disciplines of Today's Most Effective Work Groups," will be presented by author Adrian Gostick. Based on his New York Times bestselling book, "The Best Team Wins," Gostick will introduce a set of disciplines that make the biggest difference in improving workplace performance and the challenges teams face today.
ASDS Annual Meeting Work Group
The Annual Meeting Work Group allows dermatologists to present their new scientific research and findings to the leaders and innovators in dermatologic surgery. The top 10 scoring abstracts in both the Cosmetic Dermatologic Surgery and Skin Cancer and Reconstruction tracks will be presented live and in-person during the conference. Two additional oral abstract sessions will join this year's agenda to share some of the other leading research scored highly by the work group and abstract reviewers. Abstracts must be submitted by July 31, 2023. 
"Many of our meeting attendees look forward to the camaraderie and networking opportunities that are made available throughout the conference, and they consistently listed it as their favorite aspect of the 2022 meeting," said ASDS Annual Meeting Co-Chair Rebecca A. Kazin, MD. "The 2023 schedule includes dedicated time for the Exhibit Hall and opportunities for attendees to make lasting connections."
"ASDS is committed to educational excellence, and our 2023 conference will continue to offer leading education with content on the latest innovations and opportunities for lasting connections," said ASDS President Vince Bertucci, MD, FRCPC. "Attendees will benefit from the collegial learning environment featuring internationally recognized faculty and scheduled time for networking with colleagues and industry representatives."
"Our work group has been meeting for several months to develop an engaging and robust meeting filled with leading content that will apply to the day-to-day practice of dermatologic surgeons and their office staff," said ASDS Annual Meeting Work Group Chair H. William Higgins, II, MD, MBE. "Feedback from our 2022 meeting indicated 91% of attendees felt the educational content was free of commercial bias, rating the quality of session content, topics and relevance a 4.5 out of 5. We're excited to incorporate and expand on those elements again this year and increase the number of hands-on sessions and cadaver labs to enhance attendees' procedural learning."
Some of the plenary sessions, workshops and patient demonstrations include:
Cosmetic Dermatologic Surgery Pearls
Skin Cancer & Reconstruction Pearls
Cosmetic Dermatologic Surgery Complications
Skin Cancer & Reconstruction Complications
Breaking Bad – evaluating negative patient outcomes and how to prevent them
Iron Surgeon – analyzing a surgical defect for multiple reconstructive or cosmetic options
Patient Demonstrations: Advanced Injection Techniques with 3D
Patient Demonstrations: Rejuvenation Without Fillers or Toxins
Patient Demonstrations: Chairside with Experts
Hands-on Cadaver Lab: Facial Anatomy for Cosmetic Injections
Hands-on Cadaver Lab: Advanced Surgical Reconstruction
Hands-on Workshop: Residents and Fellows in Training Surgical Skills
Interactive Workshop: What Do You See? What Would You Do?