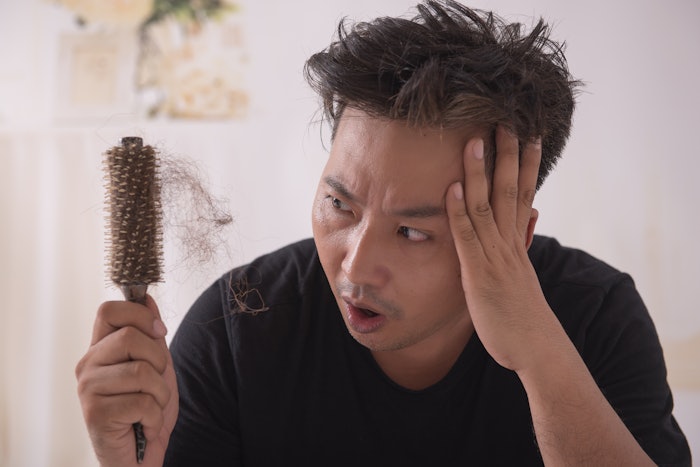 The increasing prevalence and patient demand for hair loss treatments and restoration solutions has brought a whole host of new research into contributing factors and demographic prevalence of alopecia areata. In the midst of this surging interest, researchers are investigating every angle of this condition in an effort to better understand how to approach treatment. Two related factors have been identified in fatty liver and drinking sugar-sweetened beverages (SSBs) or soda, as well as a significant prevalence of AA in the U.S. Asian American population.  
Related: The Growing Business of Non-Surgical Hair Restoration

Fatty Liver in AU & PAA Patients
A study published in the Journal of Cosmetic Dermatology examined the frequency of fatty liver in patients with alopecia areata, specifically in relation to the subtypes alopecia universalis (AU) and patchy alopecia areata (PAA).
The study included 32 patients with AU, 32 patients with PAA and 32 participants without hair loss disorders to serve as the control group. The patients with AU and PAA were comprised of individuals referred to a dermatology clinic from September 23, 2019 to September 23, 2020. Researchers recorded the age, weight, height, sex and waist circumference (WC), calculated body mass index (BMI), noted hyperlipidemia and statin use and evaluated liver enzymes for all participants. In addition to this, disease duration and the Severity of Alopecia Tool (SALT) score were recorded for AU and PAA patients. As the last step of this investigation, participants received an ultrasound to assess the presence of fatty liver and the degree of severity or its grade.
Per the report, all participants were comparable in age, sex, weight, height, BMI, WC, hyperlipidemia, abnormal liver enzymes and statin use. The group of AU patients demonstrated significantly higher SALT scores and disease duration than the group of PAA patients (p = 0.009 and p < 0.001, respectively). AU patients demonstrated the highest frequency of fatty liver at 40.6%, with grade-1 fatty liver being most common. PAA patients demonstrated 34.4% frequency of fatty liver, with grade-2 being the most common.
Researchers noted, "The higher frequency of fatty liver in AU patients compared with the PAA group can be attributed to the longer disease duration and the higher SALT score in this group. To the best of our knowledge, in previous studies, fatty liver has not been evaluated in patients with AA. Still, recently the replacement of nonalcoholic fatty liver disease (NAFLD) with metabolic dysfunction-associated fatty liver disease (MAFLD) has been proposed, highlighting the association between fatty liver and metabolic syndrome."
The study concluded that due to the increased frequency of fatty liver in AU and PAA patients, fatty liver might well be connected to AA, particularly the AU subtype. 
Related: Alopecia Market Predicted to Expand to Combat Rising Number of Cases

Soda & Male Pattern Hair Loss
A recent study published in Nutrients by a group of Chinese nutritional epidemiology researchers investigating dietary factors and patterns with a possible connection to hair loss explored the association between the consumption of sugar-sweetened beverages (SSB) and male pattern hair loss (MPHL) in young men.
The cross-sectional study included 1,028 participants from a total of 31 provinces in China, aged 18-45 years. Using a self-reported online survey, researchers collected data submitted by participants from January to April 2022.  Using a binary logistic regression model, possible connections between MPHL and the amount and frequency of consuming SSBs were explored, with adjustments made for hair status, lifestyle, dietary intake, sociodemographic and psychological factors, per the report.
Researchers concluded that a high consumption of SSBs was linked to an increased risk of MPHL. Per the report, participants that consumed SSBs more than 7 times a week were significantly (3.36 times) more likely to have MPHL in comparison with participants that did not drink SSBs.
Principal investigator Ai Zhao, Ph.D., assistant professor of public health at Tsinghua University in Beijing, China, told Dermatology Times, "We also found that all kinds of artificial sweetener beverages can increase the risk of MPHL to varying degrees, which indicates that artificial sweetener drinks may not be a substitute for sugary drinks to prevent hair loss."
Zhao pointed out that several possible factors could account for the higher risk of MPHL and SSB consumption, saying, "The high sugar content in sugar drinks leads to a higher serum glucose concentration, which triggers the polyol pathway by creating a high affinity for aldose reductase. MPHL is the main type of androgenetic alopecia [AGA]. The biochemical symptoms of AGA in the scalp are highly suggestive of an overactive polyol pathway. Both in vitro and in vivo studies have shown that glucose in the polyol pathway reduces the amount of glucose available to the outer root sheath keratinocytes of hair follicles."
Related: Oral Minoxidil is Gaining Popularity as an Alternative Hair Loss Treatment

Prevalence of Alopecia in Asian Americans
A 2023 study published in JAMA Dermatology sought to establish the prevalence of alopecia areata (AA), alopecia totalis (AT) and alopecia universalis (AU) overall as well as among racial and ethnic subgroups in the U.S.
Researchers of the cross-sectional study analyzed electronic records from the Explorys database (Watson Health and IBM Corporation), which included records of healthcare administered to children, adolescents and adults across the 4 U.S. census regions in 2019. Per the report, a statistical analysis of these records was conducted between July 21, 2022 and December 22, 2022, looking for cases of AA, AT or AU in the 1,093,176 patients that met the inclusion criteria.
Researchers found that 1,812 of the patients included had at least one code in their records for AA, over 65% of which were female and 33% male. 9% of patients diagnosed with AA included AT and AU cases, and the prevalence of cases was highest in patients aged 30-39 years (297 per 100,000) and 40-49 years (270 per 100,000), per the report. Asian American patients demonstrated the highest standardized prevalence, with 414 per 100,000, while African American and Hispanic/Latino patients demonstrated the second and third highest standardized prevalence, and Caucasian patients demonstrated the lowest prevalence of AA.