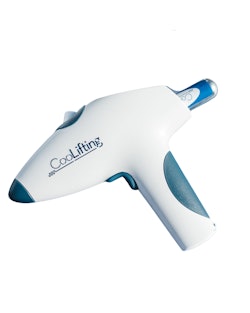 ProMed Beauty CooLifting is designed to treat the eyes' outline, forehead, frown, cheeks and lips area. It utilizes the CooLifting gun to shoot a strong CO2 flow onto the skin, combining a high concentration of atomized actives at very high pressure and low temperature.
The CooLifting treatment consists of different types of vials that are applied, along with the CO2 cartridges, via the CooLifting gun. The five-minute treatment involves symbiosis between a large concentration of anti-aging actives and an efficient activation of the epidermis allowing it to penetrate deeper.
Products Compatible with CoolLifting Gun:
The Beauty Gun: Original product for an antiaging and luminosity effect. Contains Hyaluronic acid and tighteners. Indicated for all skin types.
CoolClear: Adds a clearing effect to the antiaging one and unifies skin tone. Especially indicated for skins with pigmentation differences. Kojic acid, glycolic acid and vitamin C have been added to the original composition.
CoolShine: Designed to provide luminosity and nutrition to those young skin, also providing a relaxing aromatherapy and spa sensation. Kombucha softens and refreshes the skin while honey extract utilizes its multiple purifying antioxidants, anti-inflammatory and moisturizing properties and aloe vera improves the skin tone and elasticity.