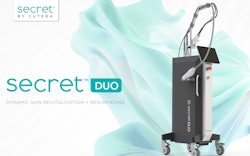 Secret Duo by Cutera is an innovative skin resurfacing and revitalization platform that utilizes dual non-ablative fractional technologies. Each modality can be used individually or in combination to target a wide range of aesthetic indications.
Optimized to treat varying layers of the skin, Secret Duo is equipped with a radio frequency microneedling (RFMN) handpiece along with a fractional non-ablative 1540 nm erbium glass laser. The unique pairing of these modalities allows practitioners to provide fully customizable solutions for fine lines, texture, pigment, stretchmarks and scars.
Secret Duo boasts quick treatment sessions along with optimized patient comfort from its RFMN smooth motor technology, selective energy delivery and adjustable intensity. Practitioners can also take advantage of the device's signature 1540 nm Secret Glow treatment that rapidly and effectively resurfaces skin to induce bulk collagen heating and remodeling with little to no downtime.