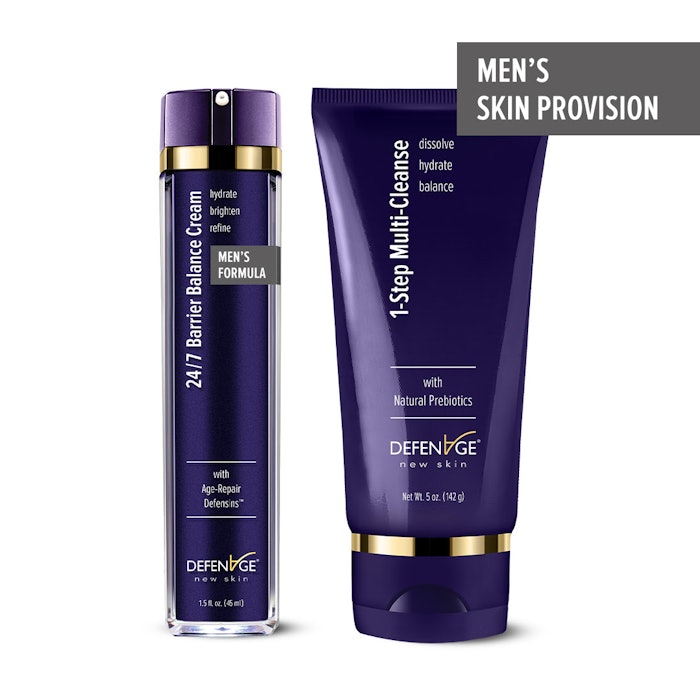 DefenAge Men's Skin Provision System Specifically Formulated for Men
DefenAge has launched the Men's Skin Provision system, the brand's first skin care set directly developed for men's skin care needs and expectations. The products, which evolved from the DefenAge Men's Skincare Kit, include a face cleanser and moisturizer.
Related: DefenAge Announces Defensin Anti-Aging Patent for Signature Cell Stimulating Technology
The Men's Skin Provision set is centered around the regenerative power of DefenAge's proprietary Defensin molecules, which naturally refresh and renew skin. The first step is a multi-cleanse, followed by the 24/7 Barrier Balance Cream - Men's Formula, which received an advanced inflammation-controlling system for smoothing and calming and an upgraded super-charged moisturization complex. The moisturizer also contains barrier protection ingredients, antioxidants, vitamins and vital nutrients for the skin. The Men's Skin Provision Set costs $98 for a month's supply.
Additionally, DefenAge offers The Men's Skin Booster for high-performance use once or twice a year. The system contains full-sized DefenAge 1-Step-Mult-Cleanse and 24/7 Barrier Balance Cream - Men's Formula, plus a booster of the Defensins-packed 8-in-1 BioSerum and exfoliating 2-Minute Reveal Masque to optimize skin regeneration and cell turnover. The Men's Skin Booster retails for $134.
The products will also be available in a professional formulation through select dermatology and plastic surgeon offices and med spas.
DefenAge's CEO, Nikolay Turovets, said in a press release, "We conducted significant market research about what is most important to our male-identifying customers and heard what they had to say about our Men's Skincare Kit. Overwhelmingly, we found that men seek simplicity, value and efficiency in their skin care. We discovered a way to deliver this without compromising efficacy."