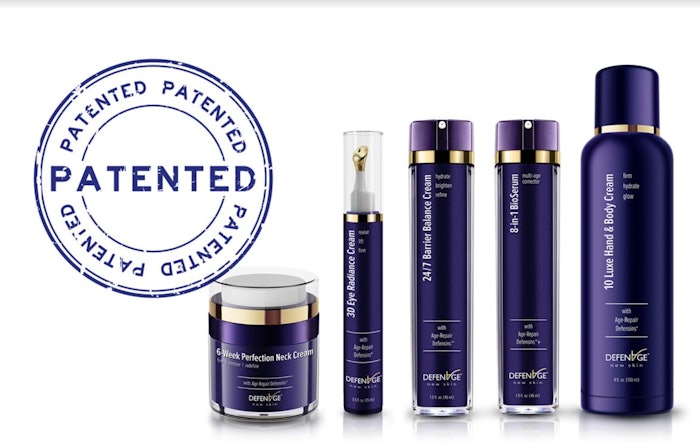 Photo courtesy of DefenAge Skincare
7 Years in the Making: Defensin Anti-Aging Patent 
DefenAge Skincare announced the release of the Defensin Master Anti-Aging Patent issued by the US Patent Office. Developed for the last seven years, the patent recognizes DefenAge's cell stimulating compositions and methods to create fresh, new skin. 
The patent concludes the international family of DefenAge's patents for the use of Defensin-molecules to reverse signs of skin aging on a global scale, including a decrease in visible fine and course wrinkles, pore size and pigmentation. 
Related: DefenAge Granted 2 Patents for Melasma and Hair Growth
The Proven Power of Defensins
"DefenAge is one of the most rigorously tested and proven modern cosmeceutical products you can find. DefenAge's products and their Defensins were tested in 19 clinical studies, including the ones published in the top peer-review magazines, the Journal of Drugs in Dermatology and Journal of Cosmetic Dermatology," said celebrity dermatologist, Suneel Chilukuri, M.D. The studies show that any part of the skin is able to respond to Defensins, with improvement in a variety of skin qualities addressing almost all aspects of visible skin aging, including the face, skin around the eyes, and body."
At the core of the patented technology is the unique ability of Defensin-molecules to trigger a powerful regenerative response in the body through activating dormant, "preserved" young skin master cells to generate new, young skin.