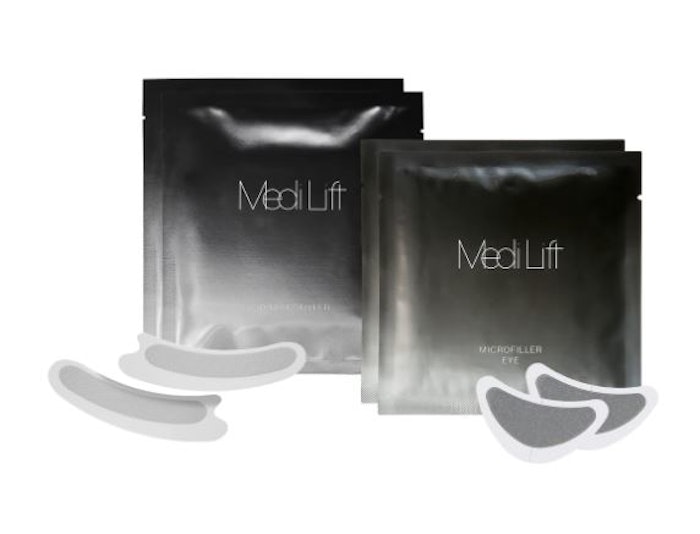 Photo courtesy of Medi Lift
Medi Lift introduced their new Micro-Moments Special Care Collection, consisting of Medi Lift 3D Microfiller Patches, Medi Lift Microfiller Eye Patches, and the Medi Lift Skin Tightening Sheet Mask. The collection provides a non-invasive, at-home option for targeting fine lines and wrinkles caused by aging and dryness. 
The Medi Lift 3D Microfiller Patches and Medi Lift Microfiller Eye Patches each contain a set of self-dissolving micro tips that melt deep into the skin's surface to target and fill signs of aging. Each patch contains approximately 1,000 microneedles infuse with 82% hyaluronic acid to boost moisture and improve the appearance of lines and pores. 
Related: Ya Man Debuts Micro Spicule-powered Medi Lift Skin Care
The needles create micro-channels in the skin, allowing active ingredients to penetrate deeper and more effectively, helping to reduce the appearance of fine lines and wrinkles in common problem areas. In a four week study using the Microfiller Patches, 87% of participants noticed plumper skin, 93% noticed increased hydration and 93% noticed a decrease in smile lines. 
The Skin Tightening Sheet Mask is a facial sheet mask that helps tighten the skin and improve firmness, elasticity, clarity and pore size. It features two unique ingredients – wild rose and mandarin orange. The mask plumps and firms the complexion, making skin appear soft and supple. Hyaluronic acid hydrates and replenishes moisture, while wild rose extract and vitamin C from mandarins helps reduce the appearance of fine lines for brighter, youthful-looking skin.