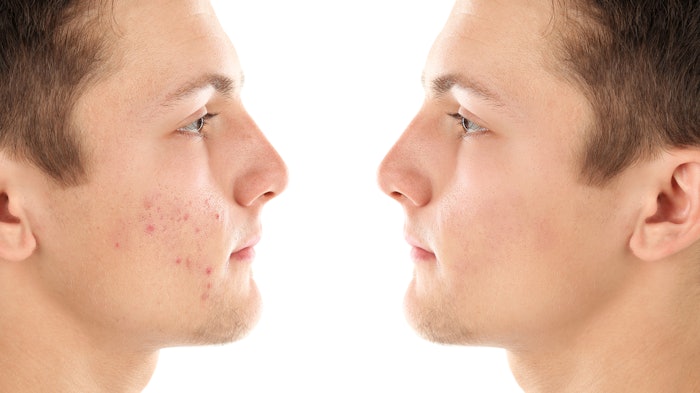 Combination treatment with low-dose isotretinoin and pulsed dye laser (PDL) offered greater improvement in inflammatory acne with fewer side effects than monotherapy with higher dose isotretinoin. For a study published in Lasers in Surgery and Medicine (July 2021). authors Shady M. Ibrahim MD, et al, compared outcomes using low-dose isotretinoin (0.25 mg/kg/day) with PDL to the standard higher-dose isotretinoin (0.5 mg/kg/day) as monotherapy for the management of acne vulgaris.
Related: Effective Energy-based Treatments for Acne
The prospective, randomized, comparative study included 46 acne patients, who were randomly divided into two groups. The first (ISO/PDL group) was treated with oral isotretinoin (0.25 mg/kg/day) and five sessions of PDL. The second (ISO group) was treated with oral isotretinoin (0.5 mg/kg/day).
Three blinded dermatologists assessed outcomes using quartile scale score and erythema score at baseline, three months and six months and the global acne grading system (GAGS) at baseline and six months. Patient satisfaction was assessed using the Cardiff Acne Disability Index (CADI).
Related: The Accure Sebum-targeting Laser
At three months and six months, both groups showed a significant improvement in all assessed parameters compared with baseline; the ISO/PDL group showed a statistically significantly greater improvement regarding all parameters at both assessment times.
Patients in the combination treatment group also had a lower incidence of adverse events. Six patients (26%) suffered from flare in the ISO group versus none in the combined group. Twenty patients (86%) in the ISO group experienced dryness versus five patients (21%) in the combination group.
Based on their findings, the authors recommended longer periods of follow-up to diagnose any relapses and modify their proposed protocol.