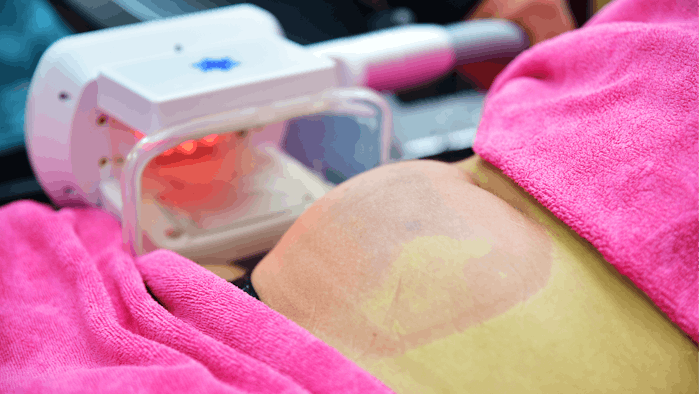 Anecdotal evidence has suggested that cryolipolysis offers skin tightening benefits in addition to fat reduction. In an effort to quantify the mechanism of action by which treatment may induce skin tightening, researchers W. Grant Stevens, MD, et al, performed a study of patients scheduled for abdominoplasty. Their findings were published in the Aesthetic Surgery Journal (May 17, 2021).
Related: Aesthetic Devices: Focus on the Body
The feasibility study involved seven subjects with a scheduled surgical excision of abdominal fat and skin.
Study subjects were treated on the abdomen with a cryolipolysis system (CoolSculpting, Allergan Aesthetics) using one cycle (-11°C for 35 minutes) per treatment site delivered by a cooled cup vacuum applicator (CoolAdvantage applicator).
Cryolipolysis was delivered to one side of the lower abdomen while the contralateral side served as the untreated control.
Following treatment, one treated and one untreated control sample (approximately 1 inch x 1 inch x 1 inch through the skin and fat) was taken from the whole tissue abdominoplasty sample of each study subject.
Related: Cryolipolysis and Informed Consent
The harvested tissue, which was harvested three days to five weeks after treatment, was immediately placed in fixative after surgery and later processed for gene expression and immunohistochemical analysis.
The investigators used RNA-Sequencing to examine differential gene expression of major collagens, RNA In Situ Hybridization (RNA-ISH) to investigate the distribution of one of the gene markers for collagen type I (COL1A1). In addition, immunohistochemistry for procollagen type I, heat shock protein 47 (HSP47), transforming growth factor beta (TGF-β) and tropoelastin was performed and quantified.
Gene expression analysis of the treated area highlighted a gradual upregulation of collagen mRNA genes. RNA-ISH confirmed upregulation of COL1A1 mRNA and showed a homogenous distribution through the dermis. Immunohistochemistry showed increases in protein expression. Quantification revealed a 3.62-fold increase of procollagen type I; a 2.91-fold increase of TGF-β; 1.54-fold increase of HSP47; and a 1.57-fold increase of tropoelastin compared to untreated areas.
The authors concluded that crylolipolysis led to a significant induction of molecular and protein markers of Type I collagen as well as changes in dermal remodeling driven by increased TGF-β and higher expression of HSP47. "Overall, these data provide the first evidence of dermal remodeling and clarify the mechanism by which cryolipolysis may induce skin improvement," they wrote.