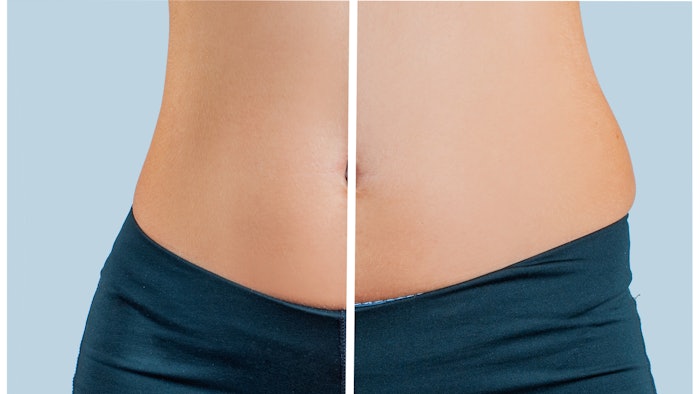 The risk of paradoxical adipose hyperplasia (PAH) following CoolSculpting cryolipolysis (CS) may be greater than previously understood, but next-generation devices do reduce the risk, say researchers Andreas Nikolis, MD, MSc, FRCSC, and Kaitlyn M Enright, MSc.
Related: Aesthetic Devices: Focus on the Body
For their study, published in the Aesthetic Surgery Journal (August 2021), they performed a multicenter evaluation of all patients who underwent CS treatment between January 2015 and December 2019 at eight Canadian medical centers.
Related: Allergan Introduces CoolSculpting Elite
The evaluation included symptoms, management strategy, outcome, operator characteristics, device characteristics, patient characteristics, body region and CS treatment details. The incidence of PAH was calculated based on the number of treatment cycles.
Related: Shape Shifting
Their findings revealed incidence rates of PAH between 0.05% and 0.39%—higher than the manufacturer's quoted rate of 0.025% (1 per 4,000 cycles). Incidence rates at all sites were dramatically reduced by more than 75% with the implementation of newer models of CS units, which offer new applicators and shorter treatment times.
Of patients who developed PAH, 55% were male and 77.8% were of European ethnic origin. Most cases (76.9%) were associated with older models of CS units.