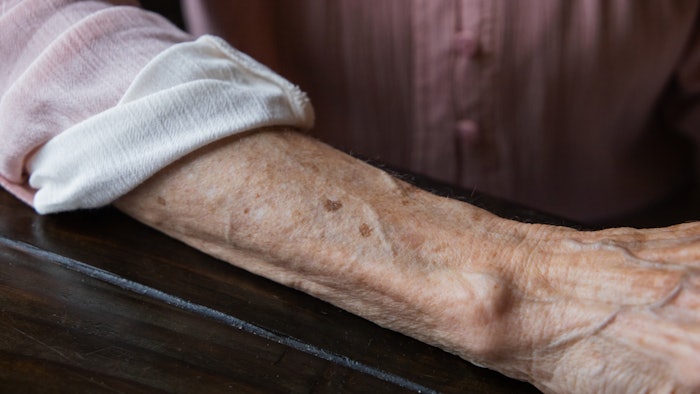 Researchers shared a new intense pulsed light (IPL) protocol that can be used to safely and effectively improve the appearance of senile purpura, as published in the Journal of Lasers in Surgery and Medicine (September 2021). 
Related: IPL Enhances PDT for Photodamage on the Decollete
The study included five subjects that were over 65 years old, with ecchymotic lesions measuring over 1 cm on each forearm and five younger subjects under 35 years of age, without any ecchymotic lesions. The subjects were treated on one randomized forearm with a new intensed pulsed light protocol (BBL, Sciton) for four weekly sessions. 
The protocol included multiple passes using an IPL device where the wavelength, filter and fluence are adjusted for each step: 
Step 1. Infrared Light (800-1,400 nm) is used with high intensity, a smooth adapter and a constant motion technique.
Step 2. A 590 nm filter with two different fluences is employed. (Fluence is increased by 1 J each treatment if no side effects are noted). 
Step 3. A 560 nm filter is used. (Fluence is increased by 1 J each treatment if no side effects are noted). 
Related: IPL Reduces Efficacy of Diode Laser in Hair Removal
To assess the safety and efficacy of the treatment, photographs and subject questionnaires were taken weekly before each treatment as well as one month after all treatment. Skin biopsies were also taken one day after the last of four weekly treatments, and a histological analysis, including hematoxylin and eosin, elastic van Gieson and Masson's Trichrome staining, were carried out to assess both the edpidermal thickness and dermal connective tissue structure. 
When using this IPL protocol in subjects with senile purpura, both the number and square area of ecchymoses on the treated arm were significantly reduced (P = 0.02 and P = 0.04, respectively, paired t test) as compared with the untreated arm after one month and four weekly treatments. All subject had at least a 50% reduction in the total square area of the ecchymoses on their treated arm. No significant or long-lasting side effects were recorded, and all subjects reported satisfaction with the treatment with a desire to continue it on their control arm. 
Related: Fractional RF Microneedling with and without PRP for Neck Rejuvenation
Blinded evaluators identified the treated arm 100% of the time when reviewing photographs from baseline and one month after the last treatment. Several subjects had significant improvement in the appearance of hemosiderin deposition and photodamage.
The authors concluded that the new IPL protocol is safe and effective in improving the clinical appearance of senile purpura, as well as preventing future lesions by improving the structure of the skin and increasing epidermal thickness and improving collagen and elastin fiber morphology. The treatment was well tolerated with minimal adverse effects and high patient satisfaction.