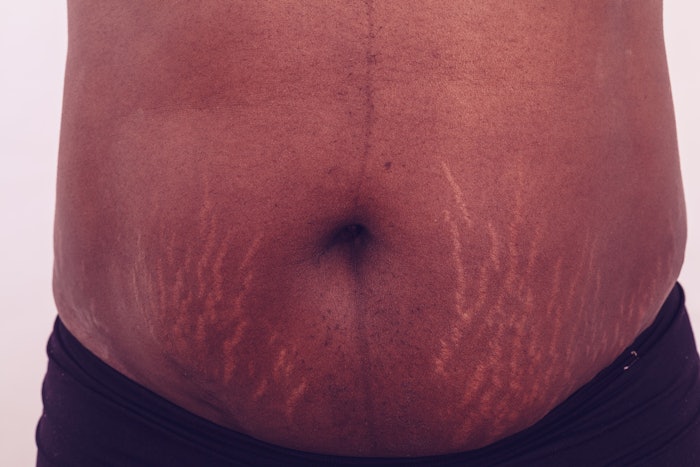 Researchers Arisa Kaewkes, MD, et al, performed a study to evaluate the long-term efficacy and safety of a fractional 1,064 nm picosecond laser for the treatment of abdominal striae alba in indivduals with dark skin types. The results, published in the Journal of Lasers in Surgery and Medicine (September 2021), showed that the treatments were safe and effective.
Related: RF Microneedle vs. Er:YAG for Striae Alba
The study included 20 subjects with Fitzpatrick skin types IV-V with striae alba. Subjects underwent four sessions spaced four weeks apart with a fractional 1,064 nm picosecond laser. The researchers used Antera 3D before treatment to assess the skin texture, average melanin index (MI) and melanin variation score. They continued this evaluation one month after the second treatment and at one, three and six months after the final treatment. Two independent investigators evaluated clinical improvement by comparing pretreatment and posttreatment photographs. Patient satisfaction rates also were assessed. 
Related: CO2 Laser vs. Carboxytherapy for Striae Distensae
There was significant improvement in skin texture at one month after the final treatment, and this improvement continued until the six-month follow-up visit. There was also a significant increase in the MI one month after the final treatment, and the melanin variation score decreased throughout the follow-up period.
The investigator assessment showed that 90% of subjects had moderate to marked improvement of striae appearance, with only two of 20 subjects (10%) developing transient postinflammatory hyperpigmentation (PIH) after the laser treatment.