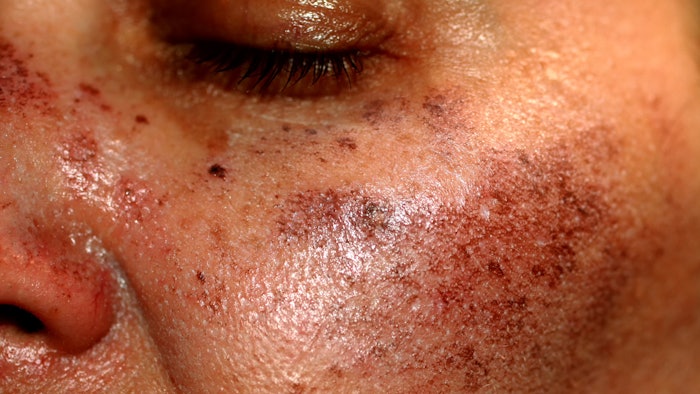 Researchers found that in the treatment of melasma the use of microneedling has the same efficacy as QS Nd:YAG laser when combined with topical 3% tranexamic acid (TA) gel. Behera Debasmita, MD, Chinmoy Raj, MD, Agrawal Ishan, MBBS, and Debata Ipsita, MD published their findings in the Journal of Cosmetic Dermatology (October 2021). 
Related: Tranexamic Acid vs. Vitamin C with Microneedling for Melasma
In total, there were 60 patients who were randomized into two groups. Group A received Nd:YAG laser sessions monthly with daily 3% TA gel, and Group B received microneedling monthly with daily 3% TA gel application. All patients received a total of five sessions with a follow-up conducted after two months. An evaluation was conducted using modified Melasma Area and Severity Index (mMASI) and patient satisfaction scores, and photography was done at baseline, after the third session, after the fifth session and at the final follow-up. 
Related: Safe and Effective of Dark Spots on Darker Skin Tones
In Group A, the mean fall in mMASI was 5.12 ± 2.66 to 2.33 ± 1.33. In Group B, the mMASI follow up was 4.60 ± 2.38 to 1.88 ± 1.08. The patient satisfaction score was not significantly different between the two groups and side effects of both included erythema, pain and burning sensation. 
Related: Cryolysis Effectively Targets Unwanted Pigment
With the mMASI scores and other points of evaluation showing no significant difference, the researchers concluded that both treatments effectively treat melasma. However, microneedling has more downtime and is less preferable as a "lunchtime treatment."