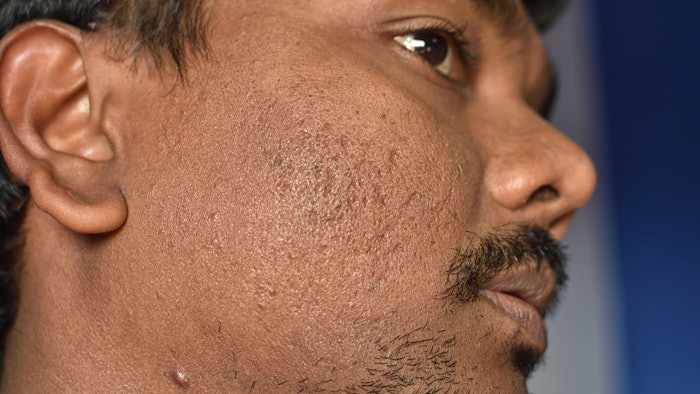 The use of high-energy ablative fractional nanosecond Q-switched 1,064 nm laser therapy for acne scars is safe and effective for patients with skin types II-IV, according to the outcomes of a study published in the Journal of Cosmetic Dermatology (October 14, 2021).
Related: Fractional CO2 with PRP Improves Acne Scar Outcomes
Nasrin Mani, MD, and Anže Zorman, reported on the outcomes of 46 subjects (9 males and 37 females) of Fitzpatrick skin types II to IV, who had been treated for acne scars at La Jolla Cosmetic Laser Clinic between February 2018 and October 2020. Subject age ranged from 16 to 69 years (average 34.8 years).
All subjects were treated with the nanosecond 1,064-nm Nd:YAG laser (StarWalker MaQX, Fotona) with a fractional 1,064-nm handpiece (FS20A) at an energy level of 30–75 mJ/pixel and MaQX-10 mode. The number of passes ranged from two to six based on the severity of scarring and the patient's immediate response.
Related: Micro-plasma RF vs. RF Microneedling for Acne Scars
The researchers assessed outcomes using standardized photographs taken before the initial treatment and at the last follow-up, which was one to six months (average 3.2 months) after the final treatment . Three blinded evaluators, who were unaware of the treatment methods, were asked to determine the correct sequence of before/after photographs. The pre- and post-treatment photographs also were scored for improvement of scarring using a global assessment improvement scale (GAIS) where 1= exceptional improvement, 2= very good improvement, 3= improvement, 4= no change and 5= worsening. Subjects rated their satisfaction post treatment on a 0–3 scale, where 0= not at all satisfied, 1= somewhat satisfied, 2= satisfied and 3= very satisfied.
Related: Low-fluence Nd: YAG Provides Long-term Results for Melasma
Most patients (75%) were improved or very improved according to blinded evaluation. Patient satisfaction was high, and no hypo/hyperpigmentation, scarring or any other serious side effects were reported by any of the patients.
The authors noted that downtime was minimal with subjects experiencing transient erythema, mild edema and some crusting for two days post-treatment with erythema resolved by day nine in all patients.