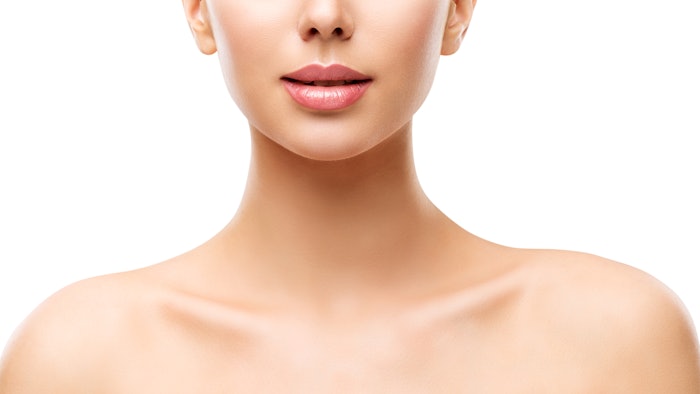 At the 2021 virtual meeting of the American Society for Dermatologic Surgery, Monica Boen, MD, of Cosmetic Laser Dermatology, San Diego, Caifornia, presented the findings of "A randomized clinical trial comparing the efficacy and safety of radiofrequency microneedling versus nonablative fractional 1,550nm erbium:glass laser for the rejuvenation of the neck."
Related: Fractional RF Microneedling With and Without PRP for Neck Rejuvenation
She and co-authors Rawaa Almukhtar, MD, Kunal Angra, MD, Emily Carr, MD, Mitchel Goldman, MD, Sabrina Fabi, MD, and Michael Lipp, DO, treated 21 subjects (Fitzpatrick skin types I-IV) randomized to undergo treatment with either nonablative fractional 1,550 nm erbium:glass laser or radiofrequency (RF) microneedling for neck rejuvenation.
All subjects had mild to moderate wrinkles and skin laxity per the Fitzpatrick-Goldman Classification of Wrinkling and Degree of Elastosis Scale, and each underwent three treatments spaced four weeks apart. Settings for the nonablative erbium lasers were: 15 mm roller tip; fluence of 25-25 mJ; treatment level of 47 (11-20% coverage) with eight passes. Settings used for RF microneedling were: bipolar insulated needles; spot size 1 cm x 1cm; 3-4 passes at 1.5mm, 0.8mm and 0.5mm depth at treatment level 4-6.
Related: The Neck and Decollete
Blinded investigators performed clinical assessments and grading of severity of wrinkling and overall improvement in neck wrinkling, texture and laxity at each visit and one and three months post treatment, based on Canfield Vectra photography.
All treated subjects showed a significant change in Fitzpatrick-Goldman Wrinkling and Elastosis Score from baseline through Day 150, with a 25% improvement in wrinkling and a 32%-40% improvement in elastosis. No statistically significant difference was seen between the groups.
Related: Multi-modal RF Significantly Improves Neck and Lower Face Laxity
"However, per blinded investigator global improvement scores, subjects treated with fractional erbium laser had a slightly increased improvement at 60 days and it was statistically significant," said Dr. Boen. "For horizontal neck wrinkle severity scores, RF microneedling had slightly increased improvement that was statistically significant at day 150."
In terms of adverse events, RF microneedling showed significantly higher scores in contour regularity and erythema post treatment. Patient satisfaction was high for both groups, though there was a trend for higher patient satisfaction in the nonablative laser group (4.2/5) than RF microneedling (3.5/5).
Related: IPL Enhances PDT for Photodamage on the Decollete
"Both of these devices have shown statistically significant improvement in wrinkling and elastosis on the neck and both are great choices in your clinic to use for neck rejuvenation," said Dr. Boen. "Nonablative fractional laser has slightly less downtime than RF microneedling."