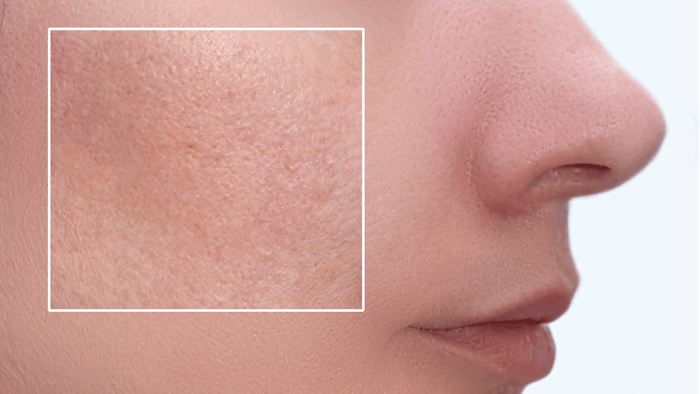 Treatment with a 755 nm picosecond Alexandrite laser shows promising results for pore size reduction, although prolonged follow-up is needed to determine longevity of results, per the outcomes of a study published in Drugs in Dermatology (December 2021).
Related: Microfocused Ultrasound Reduces Pore Size
Alison Tran, MD, MA/EdM, Rhonda Q. Klein, MD, MPH, and Deanne Mraz Robinson, MD, evaluated changes in pore size (feature count, score, percentile rank) of patients who underwent at least two 755 nm alexandrite laser treatments for photorejuvenation. Changes in pore size were evaluated using the Canfield VISIA Complexion Analysis Generation 7 imaging system.
Related: MicroBotox Reduces Facial Pores, Offers High Patient Satisfaction
Thirty-two patients (Fitzpatrick skin types I–III) received 755-nm Alexandrite picosecond laser treatment for photorejuvenation (6 mm lens array with a fluence of 0.71 J/cm2) of the face or head spaced four weeks apart. The researchers performed a Wilcoxon signed rank test to compare differences between four time periods and a mixed model ANOVA to account for patients who received less than three treatments.
Related: PRP Injections Improve Pore Size and Skin Discoloration
There was an overall reduction in pore count in approximately 57% of participant data points from times 1 to 2 and a 50% reduction from times 2 to 3. Four weeks after the third treatment (time 4), there was a 100% pore count reduction observed from baseline. In addition, there was a significant improvement of pores demonstrated by score from times 1 to 3 as well as percentile rank between times 1 and 2 (Z= -2.070, P=0.038) and times 1 and 3 (Z= -2.201, P=0.028).
The authors noted a need for future studies to investigate the long-term effect of 755-nm Alexandrite picosecond laser on pore size reduction to determine if results are maintained.