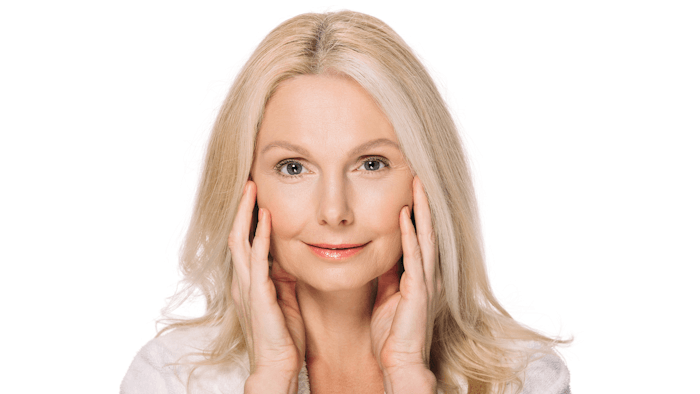 High energy, double pass helium plasma dermal resurfacing (HPDR) can provide dramatic improvement in facial rhytids, according to the outcomes of a study by J. David Holcomb, MD, Vaishali Doolabh, MD, Michael Lin, MD, and Edward Zimmerman, MD, published in Lasers in Surgery and Medicine (February 16, 2022).
Related: Newsmakers: Helium Plasma Skin Resurfacing
The authors note that previous studies have shown the efficacy of lower-energy (20%), single pass HPDR, but that the technology likely has potential for even better outcomes using higher energy (40%) and a double pass treatment protocol.
The multi-center study included four investigational sites and 55 subjects (50 female and 5 male, 30 years and older with a facial wrinkle score ≥ 4 on the Fitzpatrick Wrinkle and Elastosis Scale and a Fitzpatrick Skin Type score ≤ III), who were seeking improvement in facial rhytids. All subjects underwent full-face HPDR treatment.
Related: Micro-Plasma RF vs. RF Microneedling for Acne Scars
Digital images (VISIA-CR 2.3 System; Canfield Scientific) of the planned treatment area were taken at baseline and throughout the study at subsequent follow-up visits. To determine efficacy of the treatment, blinded independent photographic reviewers and study investigators compared Fitzpatrick Wrinkle and Elastosis Scale (FWS) scores at baseline and three months post treatment.
Both the independent reviewers and study investigators observed a ≥1-point FWS improvement in 100% of subjects with mean change from baseline to the 90-day visit of −3.6 (±1.2). Most (96.4%) of subjects indicated "improvement" in appearance at the 90-day visit. Evaluation of VISIA-CR data revealed statistically significant improvements in wrinkles, brown spots and pore counts.
Related: Apyx Begins Phase 2 Trials of Renuvion Plasma Device for Neck and Submental Treatment
There were 269 adverse events and expected treatment effects in 55 subjects. Most were mild-moderate in severity (99.3%) and anticipated (86.2%). They included crusting, edema/swelling and erythema/skin inflammation/focal congestion in 55 subjects, pain/tenderness in 30 subjects, itching/pruritis in 14 subjects, post-inflammatory hyperpigmentation in six subjects, pinpoint bleeding in two subjects and rash/urticaria in two subjects. The majority resolved within 30 days (60.6%) with 75.8% resolved by Day 90 and 90.3% resolved by Day 180 posttreatment.
The authors concluded that, "Treatment of facial rhytids with high energy, double pass HPDR as detailed herein enables a marked improvement in FWS that parallels or surpasses competing technologies."