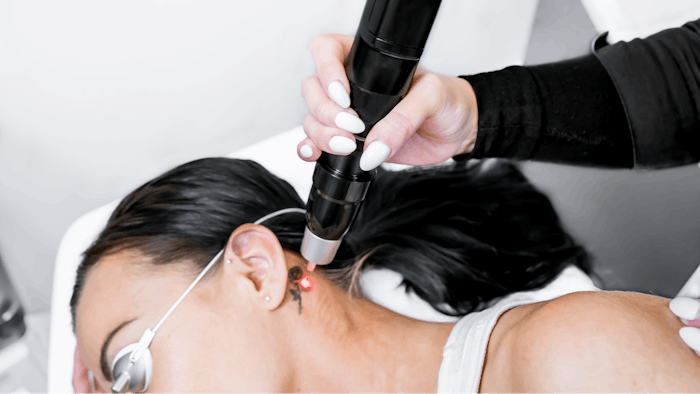 An April 2022 study published in the Journal of Cosmetic Dermatology (May 2022) on laser tattoo removal devices indicates that a combination of fractionated and unfractionated 1,064-nm picosecond lasers may be more effective and safer in tattoo removals than unfractionated picosecond lasers alone.
Related: Choosing the Right Tools and Treatments for Tattoo Removal
Typically, tattoo removals only used focused treatments of unfractionated 1,064-nm picosecond lasers (UFr-Pico), while various skin conditions like scars and pigmented lesions were treated with fractionated 1,064-nm picosecond lasers (Fr-Pico).
This study, conducted by Punyaphat Sirithanabadeekul, M.D., et al., treated 19 black tattoos on 11 patients, using only UFr-Pico on one half of the tattoo and a combination of UFr-Pico and Fr-Pico on the other half. The treatment took place over three sessions at four-week intervals and results were assessed with digital photography, skin imaging analysis and patient satisfaction.
After three treatments, 11 (84.6%) tattoos treated with a combination of lasers showed more than 50% clearance, compared to nine (69.2%) tattoos treated with UFr-Pico alone. More significant differences were observed between the two treatments at 8 and 12 weeks, including fewer adverse reactions like blistering and textural changes from the combination treatments.