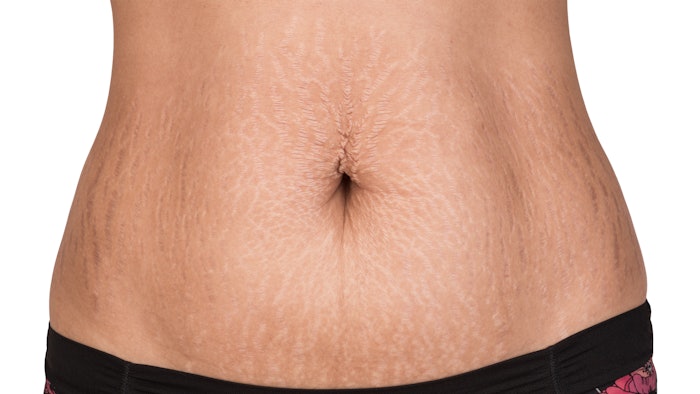 A May 2022 study in The Journal of Dermatology evaluated the efficiency of treating striae gravidarum (SG) with a combination of topical β-glucan (B) and 1565-nm non-ablative fractional laser (NAFL) treatments. The study found that all treatment options were well tolerated, but the combination of topical β-glucan and NAFL showed the greatest improvements.
Related: Erbium Laser + Fat Grafting Significantly Improves Scarring
The study, reported by Yajing Cao and Peiru Wang, et. al., observed a total of 112 unilateral abdomens from 56 women, divided randomly into four strategies: topical vehicle (Veh), topical β-glucan (B), 1565-nm NAFL combined topical vehicle (NAFL) and 1565-nm NAFL combined topical β-glucan (B+NAFL). The NAFL treatment was applied three times at a four-week interval and a topical reagent was applied for 12 weeks.
Global Aesthetic Improvement Scale (GAIS) scores were assessed by blinded physicians according to standard photographs and by subjects at week 12. The degree of SG atrophy was also assessed by blinded physicians before treatment and at week 12 according to a standard 5-point scale. Collagen remodeling was evaluated by histological analysis and all adverse effects were recorded.
More: CO2 Laser vs. Carboxytherapy for Striae Distensae
The GAIS scores showed greater improvement in NAFL as compared with β-glucan, and subjects showed greater improvement in β-glucan as compared with topical vehicle. The improvement of SG atrophy was more prominent in NAFL compared to β-glucan and in B+NAFL compared to Veh+NAFL.
Results from the study confirm that all treatments are well tolerated. Topical β-glucan can mildly improve SG, NAFL showed better results and the combined B+NAFL treatment can deliver stronger results than a single treatment.