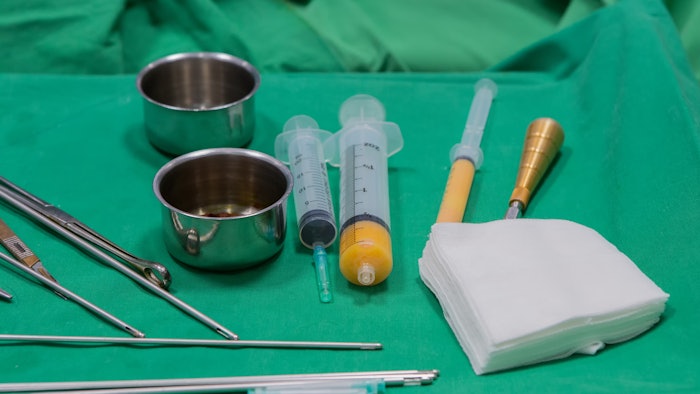 Researchers set out to evaluate the effectiveness of fat grafting to restore volume loss and improve scar tissue from filler-induced complications. The study, published in the Journal of Plastic and Reconstructive Surgery (March 2021), reviewed the cases of 33 patients treated between March 2010 to February 2017. All of the patients had suffered inflammatory reactions to permanent facial fillers and had been treated with an 808-nm diode laser at the University of Modena.
Related: ASDS Publishes Guidelines for Preventing Filler-Induced Adverse Events
The evacuation of material left facial asymmetry and visble depressions. To restore facial aesthetic units, fat grafting was performed using the Coleman technique. Fat harvesting areas were selected by patient preference, volume of fat required and access to the supine position. Donor sites included the medial thigh, flanks and abdomen. Fat was harvested using a tumescent solution containing 0.5% lidocaine with 1:200,000 epinephrine (with a ratio of aspirated fat to tumescent solution approximately 1:1) infused with a blunt inflitration cannula. The harvesting cannula (2 mm diameter with 1 mm holes) was connected with a 10 ml Luer-Lok syringe. The fat was processed through centrifugation at 3,000 rpm for three minutes. The minimum follow-up after the treatment was six months. 
Related: ADSC-Derived Exosomes Speed Healing and Improve Ablative Laser Efficacy for Acne Scars
Researchers noted that volume restoration was recognized and measured according to the Global Aesthetic Improvement Scale. Twenty-two patients had significant improvement in volume restoration; eight patients had moderate improvement in volume restoration; and three patients had slight improvement in volume restoration. When it came to atrophic and scarred tissue improvement (with an apparent thickening of the skin or even elimination of scars), 25 patients were very much improved and eight patients were moderately improved.  
There was a high degree of patient satisfaction with the technique.