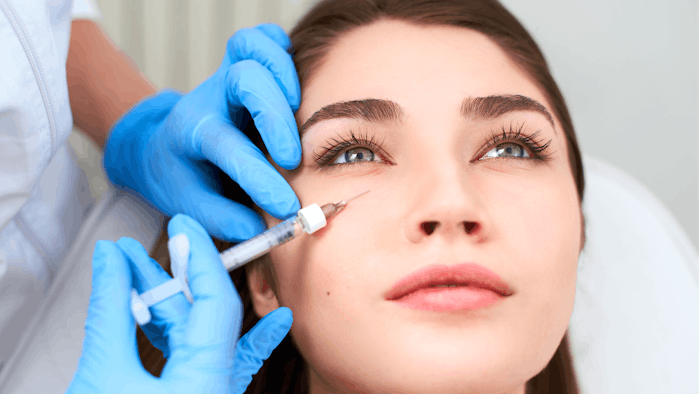 Juvederm Volbella is effective in correcting moderate-to-severe undereye hollowing with results lasting at least one year. Sabrina Fabi, MD, et al, performed a prospective, multicenter, single-blind, randomized, controlled study of VYC-15L (Juvederm Volbella) for correction of infraorbital hollowing (Aesthetic Surgery Journal, August 5, 2021).
Related: Restylane Kysse vs. Juvederm Volbella for Lip Augmentation
The primary endpoint was defined as the proportion of participants with ≥ 1-grade improvement at three months post-treatment, as assessed by an evaluating investigator (EI) using the Allergan Infraorbital Hollows Scale (AIHS). The researchers also performed three-dimensional imaging to assess infraorbital volume through 12 months post-treatment.
At three months, the difference between the treatment group (83.1%) and control (15.6%) was 67.5%. Three-dimensional imaging showed a mean volume increase from baseline of 0.733 mL (left) and 0.777 mL (right) at Month 12.
Related: Hyaluronic Acid Filler Injections for Undereye Circles 
The mean subject-reported pain scores were < 1.7 (scale of 0 to 10). Injection-site responses, which were mild/moderate and resolved in less than week, included tenderness (49.5%), bruising (42.7%) and swelling (41.7%).
Fourteen subjects (10.3%) had treatment-related adverse events, which resolved in less than two weeks and included bruising (3.8%) and swelling/edema (2.9%). Three participants had swelling/edema starting less than 30 days post-treatment; two cases resolved in less than four days and one by 45 days. No treatment-related serious adverse events were reported.
Related: HA Fillers for Tear Trough Deformities: Best Practices
The authors concluded that "VYC-15 was safe and effective for the correction of moderate or severe infraorbital hollowing and lasted through one year."