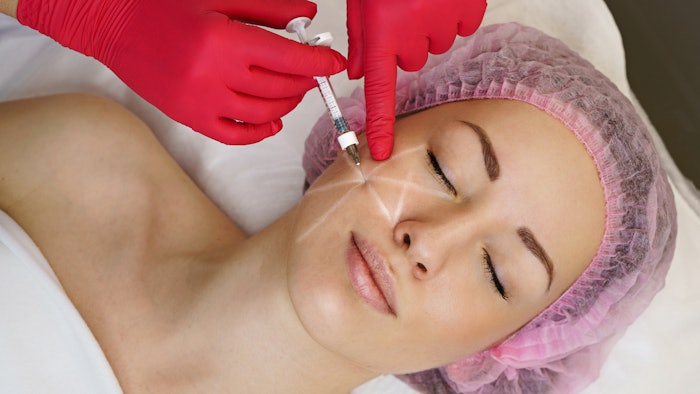 While the use of hyaluronidase in hyaluronic acid (HA) vascular occlusion has been evaluated, researchers Yolanda Salinas-Alvares, et. al, believed there was not enough information on the effects it has on adjacent tissue. The researchers performed a study to determine an effective concentration of subcutaneous hyaluronidase to dissolve an HA embolism and its effect on the surrounding tissue. 
Related: Filler-Induced Vision Loss: Risks of Endovascular Hyaluronidase Application
For the study, published in the Journal of Plastic and Reconstructive Surgery (December 2021), researchers split 15 rabbits into six groups and performed an inguinal incision on the femoral artery to create an HA embolism in the control and treatment groups. The treatment groups were broken up into low-, medium- and high-dose hyaluronidase groups. Hyaluronidase was injected subcutaneously. 
The evaluation of this study included photographic follow-ups, histologic analysis and quantification of HA. The Kruskal-Wallis test and post hoc with Bonferroni correction (p < 0.05) was used to compare the presence of HA in the arterial lumen between groups.
Related: Study Reveals Hyaluronic Acid Dynamics in Skin
Macroscopic and microscopic differences were found between the embolism control group and embolism hyaluronidase high-dose group. Histologic analysis showed thrombosis throughout groups. However, the skeletal muscle was least affected in the embolism hyaluronidase 500 IU group with less lysis and inflammatory infiltrate. 
The authors determined that a 500 IU hyaluronidase dose partially prevents the damage caused by the embolism while not impacting the surrounding tissue.