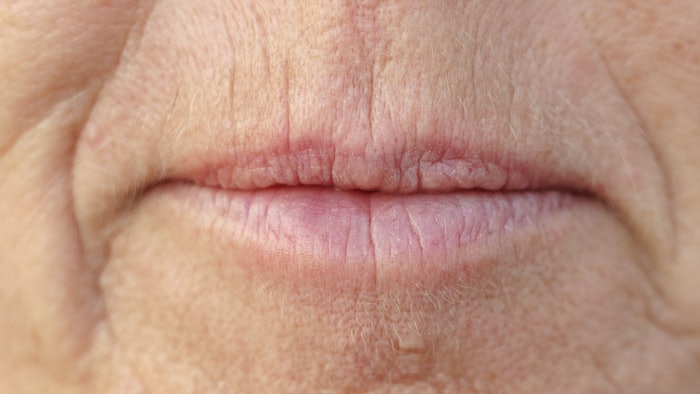 A study published in the January 2022 issue of Dermatologic Surgery confirmed the efficacy of Teoxane's Resilient Hylauronic Acid Redensity (RHAR) soft tissue filler for perioral rhytids, with 66% of treated subjects maintaining improvement at 52 weeks.
Related: Newsmakers: RHA Dermal Fillers
The randomized, blinded, multicenter clinical study by Hema Sundaram, MD, et al, aimed to demonstrate superiority of RHAR over no-treatment control for correction of moderate-to-severe dynamic perioral rhytides.
Two hundred two subjects with moderate-to-severe perioral rhytides (Grade 2 or 3) were enrolled at eight study sites (Six in the U.S. and two in Canada). They were randomized 3:1 to treatment group or control. The mean ages in the treatment group and control groups were 61.6 ± 7.2 years and 60.7 ± 7.6 years, respectively, and 27% had Fitzpatrick skin phototypes IV to VI.
Related: RHA 3 for Hand Rejuvenation, 12-Month Follow-up
The total volume of filler—including initial and touch-up treatments—to achieve optimal correction of perioral rhytides was 2.8 ± 2.0 mL.
Blinded evaluators assessed efficacy using the proprietary Perioral Rhytids Severity Rating Scale (PR-SRS) and the Global Aesthetic Improvement Scale. Subjects were asked to self-assess their results using the FACE-Q patient-reported outcome measure and satisfaction scales.
Related: Non-cross-linked HA Filler Improves Firmness and Elasticity in Perioral Region
The treatment group showed statistically significant superiority over the control group at Week 8 (80.7% vs 7.8% responder rate). Most patients (66%) were still responders at Week 52.
Blinded evaluators rated the degree of aesthetic improvement at Week 8 as significantly higher for the treatment group than for the control group (92.5% vs 8.3%) with improvement still visible in 80.9% of subjects at their last visit (week 52).
The proportion of subjects satisfied with treatment peaked at 91.8% at Week 4 and was 88.3% at Week 52.
There were no serious treatment-related AEs (TRAEs), unanticipated device-related events or late-onset TRAEs, nodular complications or vascular compromise events. All TRAEs were mild to moderate in severity, all resolved, and none was deemed clinically significant.