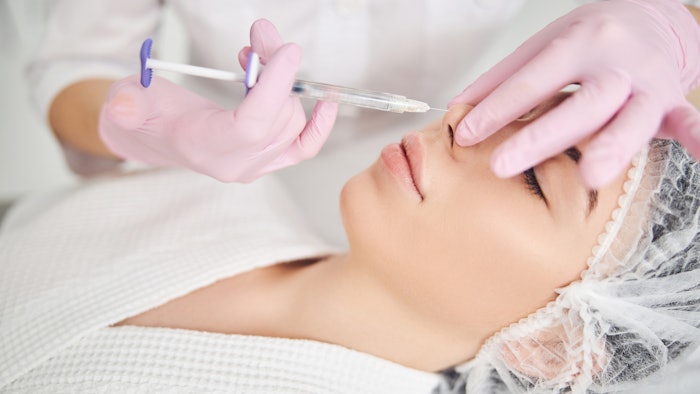 Researchers Nebahat Demet Akpolat, MD, and Sezin Unlu, MD, performed a prospective clinical study to address the effects of showing comparative photographs (preprocedure and postprocedure) in the follow-up period to patients who had undergone nonsurgical rhinoplasty. 
They found that showing patients their preprocedure and postprocedure photographs during a follow-up appointment after nonsurgical rhinoplasty did improve patient satisfaction with the outcomes. Their findings were published in the Journal of Cosmetic Dermatology (March 2022). 
Related: Recommendations on HA Injections for Nonsurgical Nasal Augmentation
The study included 265 female patients (18 to 61 years old) who were suitable for nonsurgical rhinoplasty. Photographs were taken at baseline and one month after the procedure. At this time, patients were asked to fill out Derriford Appearance Scale 24 (DAS24) and Rhinoplasty Outcome Evaluation (ROE) questionnaires. 
After the preprocedure and postprocedure photographs were shown to the patients, they were asked to complete the questionnaires again. 
Related: Laser-assisted Removal of Granulomas Following Nonsurgical Rhinoplasty
The DAS24 and ROE scores showed significant improvement after patients were shown the preprocedure and postprocedure photographs. Prior to being shown the photographs, the DAS24 and ROE scores were 52.2 ± 14.26 and 75.91 ± 11.91, respectively. After the photographs were shown, the DAS24 and ROE scores were 40.80 ± 13.25 and 87.722 ± 8.56, respectively.