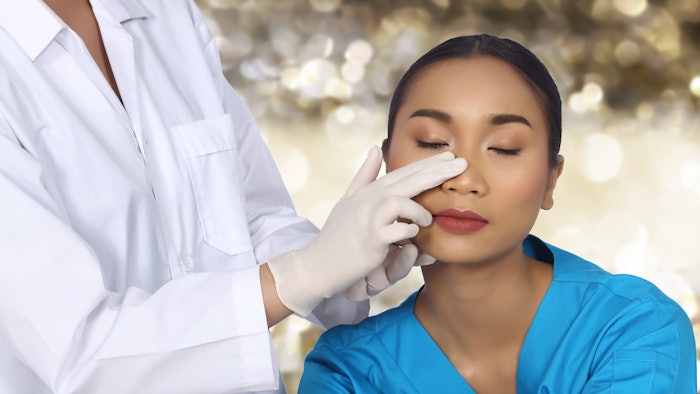 With nasal nonsurgical augmentation using dermal fillers becoming an increasingly popular treatment option, researchers Patrick Trevidic, MD, and Hee-Jin Kim, DDS, PhD, et al, wanted to stress the importance of appropriate patient and product selection as well as safer standardized injection techniques to minimize complications and achieve reproducible aesthetic results.
They published consensus recommendations for nonsurgical nasal augmentation using hyaluronic acid fillers with a focus on the dorsum, tip and columella in Plastic and Reconstructive Surgery (February 2022). 
Related: [Technique] Midface Rejuvenation with HA Fillers
A consensus meeting was held to develop recommendations on nonsurgical nasal augmentation on Asian patients using hyaluronic acid-based fillers. In addition, the researchers performed a literature review using PubMed and Google Scholar to identify and formulate recommendations. Using the criteria outlined by the Grading of Recommendations Assessment, Development and Evaluation Working Group, the researchers created consensus statements for this treatment. 
They noted that, since nonsurgical nasal augmentation is an advanced procedure that warrants in-depth knowledge of the nasal anatomy, a thorough pre-injection assessment as well as counseling is needed to fully align the patient's expectations with achievable aesthetic goals. 
Related: Aspiration Before Soft Tissue Filler Deemed an Unsafe Practice
To minimize the risk of intravascular injection, injections must be deep and at the level of the periosteum or perichondrium. Aliquots of hyaluronic acid must be introduced slowly using low-pressure and low-volume injections. Optimal aesthetic effect is achieved by using hyaluronic acid dermal fillers that are highly elastic, cohesive and with good adaptability to their environment.