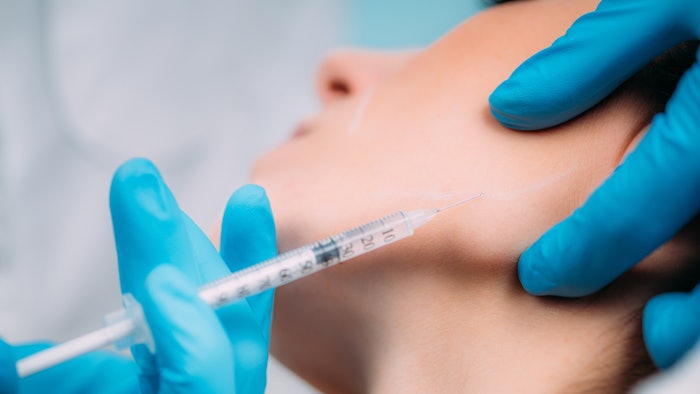 Needle aspiration has long been recommended as a safety precaution to reduce the risk of intravascular injections. But in recent years the utility of aspiration when injecting gel substances, such as hyaluronic acid-based fillers, has been questioned. In the January 2022 issue of the Aesthetic Surgery Journal, a team of researchers made up of aesthetic medicine specialists from Australia, led by Greg J Goodman, MBBS, FACD, published the outcomes of an integrative literature review on the use of aspiration before soft tissue filler treatment.
Related: Needle Aspiration Inadequate as a Safety Measure
The authors found that the studies demonstrated that "aspiration cannot be relied on and should not be employed as a safety measure. It is safer to adopt injection techniques that avoid injecting an intravascular volume with embolic potential than utilize an unreliable test to permit a risky injection."
Aspiration Concerns
The researchers identified pertinent studies on aspiration and dermal filler injections through multiple search engines, including PubMed, Cochrane, Centre for Reviews and Dissemination and Google Scholar using the keywords: "hyaluronic acid" and "aspiration", "hyaluronic acid" and "blood aspiration" and "hyaluronic acid" or "cosmetic" and "blood aspiration."
Related: Reducing the Risks of HA Filler-induced Vascular Complications
Their determination that there is no role for the use of negative aspiration when injecting dermal fillers was based on three key concepts:
1.      If the aspiration test is negative, then it is deemed to be safe to proceed with injection, but movement is not permitted from that point. However, movement is promoted by many consensus groups as a significant safety procedure when injecting soft tissue fillers, and "movement of the instrument in and out of vessels is believed to reduce the chance of inadvertently injecting an embolic bolus of filler within a single vessel."
2.       False-negative aspiration may occur due to vessel collapse, movement from the initial position into a vessel after an aspiration maneuver or difficulty with clearing the filler from the needle, which will prevent blood flash. Prevention of blood flash due to filler in the needle is affected by product rheology, size of needle and duration or force of retraction pressure, meaning the risk of false-negative aspiration may increase with higher G' fillers.
3.       Dependence on aspiration may lead injectors to be less conscientious of other safety practices with more evidence, such as understanding injection anatomy, injection plane and injection techniques.
Related: [Filler Safety] Rethinking Glabella Injection Points
The authors concluded that, "Recent literature would suggest that rather than rely on aspiration, avoidance mechanisms such as continuous movement when injecting, slow injection speed, low extrusion force and small volumes, in conjunction with an in-depth understanding of the safer injection planes pertaining to vascular anatomy, may mitigate intravascular incidents."
Read the open access paper here.