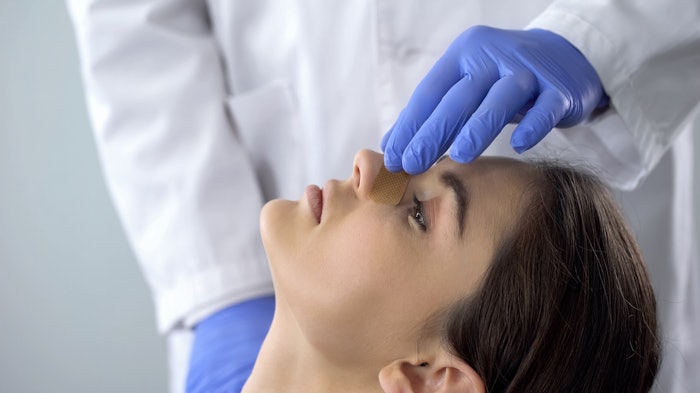 Nonsurgical rhinoplasties have become increasingly popular, as they allow physicians to address common patient concerns without an invasive surgery. While hyaluronic acid-based fillers can provide positive outcomes, practitioners and patients typically opt for permanent fillers, such as polymethylmethacrylate (PMMA). This allows for long-term results, but also introduces new complication risks, including granulomas.
Related: Restrospective Review of Nonsurgical Rhinoplasty Outcomes and Adverse Events
Once they occur, granulomas typically need to be surgically removed; a short pulsed Nd:YAG laser may improve outcomes by breaking up the filler so that it is easier to remove.  
This method was analyzed by Alberto Goldman MD, et al, who published a review of short-pulsed Nd: YAG treatment for PMMA granulomas following nonsurgical rhinoplasty in the Journal of Drugs in Dermatology (November 2021).
Related: PMMA-Collagen Gel Filler Ideal for Acne Scar and Supraperiosteal Plane Treatments
The authors performed a retrospective clinical analysis of the medical records of 27 patients with a history of PMMA injection in the nose, who had undergone treatment of PMMA granulomas of the nose at a private clinic from January 2015 to January 2021. The clinic used the Nd:YAG laser (applied intranasally or directly by cutaneous incision in the granulomas). The authors noted that "Laser-tissue interaction heats the alloplastic material, fragments the product and creates cleavage paths, thereby facilitating the removal of PMMA, either by intercartilaginous removal or aspiration."
Related: Managing PMMA Complications in the Midface
The material that was removed after laser-tissue interaction was sent for histopathological examination, which revealed the presence of microparticles of exogenous material compatible with PMMA.
Patients were followed from six to 47 months after treatment. In all cases, the partial removal of the alloplastic material was shown to be effective with one patient developing a small blister in the nasal dorsum.
As a result of their findings, the authors concluded, "The use of intralesional Nd:YAG laser for the treatment of PMMA granulomas on the nose proved to be an effective and safe procedure with improvement of nasal shape, without compromising respiratory function."