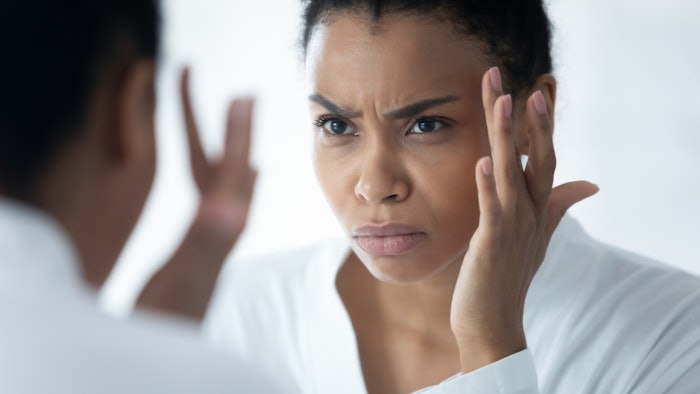 A 36-week study evaluating the efficacy as well as subject satisfaction and psychological well-being with increasing doses of abobotulinumtoxinA (ABO, Dysport) found significant and sustained improvement (up to 36 weeks) in glabellar line severity and high patient satisfaction rates. 
Related: Botulinum Toxin Injections Cause Changes in Mandibular Bone
The Phase 2, multicenter, randomized, dose-ranging, double-blind, placebo-controlled study, published in the Journal of Cosmetic Dermatology (April 2022), included 399 adults with moderate to severe glabellar lines who received either a single ABO treatment dosed at 50, 75, 100 or 125 U, or placebo. 
The subjects' glabellar lines were assessed using the investigator live assessment (ILA) photographic scale and subject self-assessment (SSA) static categorial scale (ranging from mild to severe). The researchers also recorded global aesthetic improvement scale (GAIS) grade, FACE-Q appraisal of lines, psychological well-being and age and subject satisfaction grading at baseline and during follow-ups at day 2, week 1, and week 2, and then every four weeks from Week 4 through Week 36. The SSA responder rate was defined as those achieving ≥1-grade improvement in glabellar line severity from baseline at maximum frown. 
Related: [Comparison] BTX-A Injection Techniques for Gummy
At week four, 96.3%-100% of subjects had a ≥ 1-grade improvement with ABO 50-125 U doses; at week 24, 65.0%-67.9%; and at week 36, 33.8%-44.4%. Response rates based on GAIS and FACE-Q appraisal of lines showed a similar pattern of change. 
Participants reported high satisfaction and noted a more natural and youthful appearance, alongside improvements in psychological well-being.