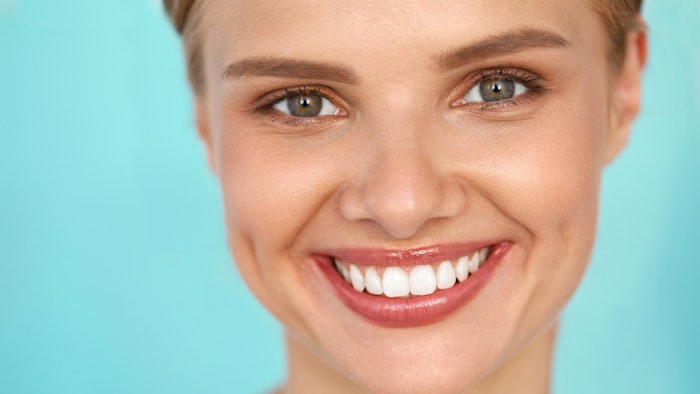 Increasing the number of injection points when using botulinum toxin for management of a "gummy smile" improves patient satisfaction, according to the outcomes of a study published in the April 2022 issue of Aesthetic Surgery Journal (April 2022).
Aline Bitencourt Costa, DDS, MSc, et al, performed a randomized, controlled preliminary clinical trial to evaluate the effects of two different botulinum toxin type A (BTX-A) injection techniques for excessive gingiva display (EGD) reduction.
Related: Navigating Off-Label Indications for Botulinum Toxins
Group 1 (G1) received four points of injection (2 U/point) for relaxation of the levator labii superioris alaeque nasi and levator labii superioris muscles; Group 2 (G2) received two points of injection (2 U/point) for relaxation of only the levator labii superioris alaeque nasi muscle. Muscle activity and patient satisfaction were assessed at 2, 8, 12, 16, 21 and 25 weeks.
The authors noted a high dropout rate, leading them to define their findings as preliminary. Of those who completed the study, at two weeks, there was a significant reduction of EGD in both groups, as well as increased satisfaction with appearance from baseline. There was no difference between the two groups.
Related: Achieving Longer-Lasting Botulinum Toxin Injections
A statistically significant EGD reduction was maintained at 16 weeks in G2 and 25 weeks in G1. After 14 days, there was a gradual recovery of muscle activity in both groups with a return to baseline values by 25 weeks. Patients in G1 reported satisfaction with the treatment up to 21 weeks. Patients in G2 reported satisfaction with treatment up to 16 weeks.
The authors concluded that increasing the number of BTX-A injection points resulted in a prolonged effect of EGD reduction and higher rates of patient satisfaction but did not increase the intensity of the outcome.