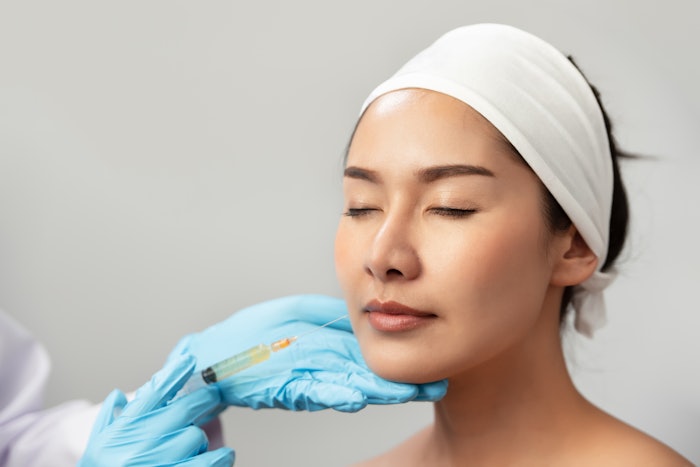 A study on the dermal filler market by Transparency Market Research reported that a rise in preference for minimally invasive procedures will boost the US market. Per the report, the U.S. dermal filler market was valued at $1.2B in 2021 and is expected to reach $3.3B by 2031, growing at a CAGR of 10.9%.
Related: Study Reveals Botulinum Toxin Complication Rates at 16%
The dermal filler market is driven by the rising acceptance of anti-aging treatments by elderly individuals globally. Regions with low cost of dermal filler procedures witnessed a surge in demand.
Per the report, lip enhancement is expected to be a significant player in the market, growing at a 10.7% CAGR during the forecast period. The biodegradable segment led the U.S. dermal filler market in 2021 and is anticipated to account for a major share of the market by 2031, expanding at an 11.0% CAGR during the forecast period. 
Countries such as India, Brazil and Dubai reported a significant number of patients from the US and countries in Europe traveling for dermal filler procedures. 
The demand for non-surgical dermatological procedures has increased due to faster results, cost-effectiveness and fewer associated risks than conventional methods. An estimated 1.4 million surgical and non-surgical treatments were performed in 2021, with plastic surgeons performing more than 600 more operations on average than they did in 2020. 
The dermal filler market in the United States is fragmented due to the presence of a large number of players. Key players operating in the market in the country include AbbVie, Advanced Aesthetic Technologies, Anika Therapeutics, Inc., BioPlus Co., Ltd., Croma-Pharma GmbH, Cytophil, Inc., Dr. Korman Laboratories, Galderma, Huons USA, Merz Pharma GmbH & Co. KGaA, Revance, Sinclair Pharma, Suneva Medical, Inc., Syneron Medical Ltd., and Teoxane Laboratories.