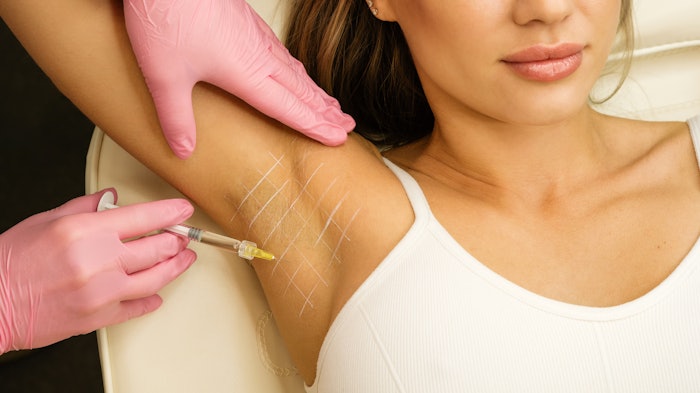 The global market for axillary hyperhidrosis (AHH) is experiencing significant growth and is projected to continue expanding through 2032, according to a report from Research and Markets. The United States holds the largest market size, reaching approximately $500 million in 2022.
Related: Hyaluronic Acid-based Dermal Fillers Global Market Trends
Research on AHH has an opportunity for innovation, as it is often underdiagnosed and understudied as a disease, according to the report. Although there is currently no cure for AHH, various treatment options are available to manage the condition. Per the International Hyperhidrosis Society's Clinical Guidelines for the Treatment of Primary Focal Axillary Hyperhidrosis, the general recommendation is to try more conservative therapy before resorting to invasive treatment. 
The recommended first-line treatment is topical antiperspirants. These are the least expensive option but are not as effective in the long term and may cause skin irritations. For patients who do not respond well to topical treatments, botulinum toxin A injections are recommended as the second-line treatment.
Oral systemic medications, including anticholinergics (glycopyrrolate, oxybutynin, and propantheline), propranolol, clonidine and diltiazem may be used to treat primary axillary hyperhidrosis but require patient education regarding potential side effects, according to the report.
The market for AHH has seen the emergence of new therapies that have the potential to impact the market. One therapy identified in the report is ECCLOCK, developed by Botanix Pharmaceuticals. These innovative treatments are expected to drive the growth of the AHH market.
QBREXZA (glycopyrronium) was approved by the U.S. FDA in 2018. Japan's Ministry of Health, Labor and Welfare approved RAPIFORT Wipes 2.5% (glycopyrronium tosylate hydrate) to treat primary axillary hyperhidrosis.
For more information, check out Research and Markets' full report on the axillary hyperhidrosis global market.