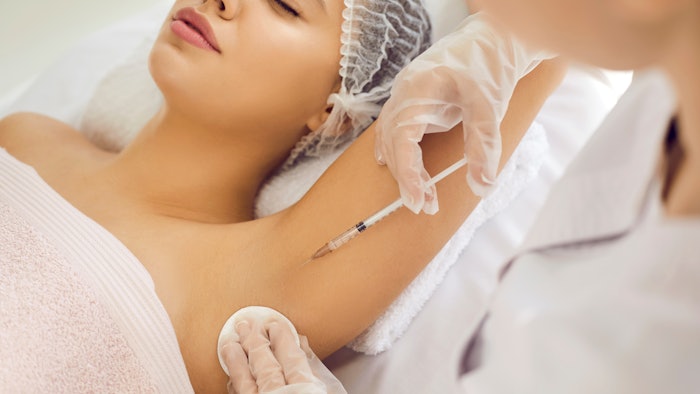 Are your patients dealing with excessive underarm sweating that they are looking to treat with non-invasive methods? There are two treatments that are worth recommending and adding to your menu of services; armpit Botox and Candesant Biomedical's targeted alkali thermolysis (TAT) Patch. 
1. Targeted Alkali Thermolysis (TAT) Patch
Candesant Biomedical, a private medical device company focused on the development of non-invasive treatments for hyperhidrosis or excessive sweating, announced the acceptance of its pivotal SAHARA clinical trial data for its investigational targeted alkali thermolysis (TAT) Patch. 
Currently under review by the U.S. Food and Drug Administration (FDA) for the treatment of primary axillary hyperhidrosis or excessive underarm sweating, Candesant's investigational non-invasive Patch is applied to the underarm by a health care provider during an in-office treatment.
The Patch is activated when the water in sweat contacts the Patch's sodium sheet. The sodium in the Patch creates precisely localized thermal energy, microtargeting sweat glands and reducing excessive underarm sweat production. The Patch stays on for up to three minutes on each underarm, is single-use, and disposed of after the treatment.
Related: The 4 Major Industry Trends That Will Shape the Future of Medical Aesthetics
2. Armpit Botox
The FDA approved underarm botox injections for individuals who suffer from excess sweating. The injection works by attacking the neurotransmitters in the body that activate the sweat glands. Though follow up appointments will be necessary every year to maintain results, this is ground-breaking technology for men and women around the world. 
The International Hyperhidrosis Society shared that Botox has the ability to interrupt the flow of the chemical in the body that signals the sweat glands, reducing sweating in the injection area. According to an article by Glam, and board-certified cosmetic dermatologist, Michele Green, Botox "blocks the nerves responsible for activating sweat glands." 
As for the treatment's success rate, the International Hyperhidrosis Society shared that the treatment has been shown to result in an 82% to 87% decrease in underarm sweating, an 80% to 90% success rate in reducing hand secretions, and about a 50% efficacy rate for the feet.