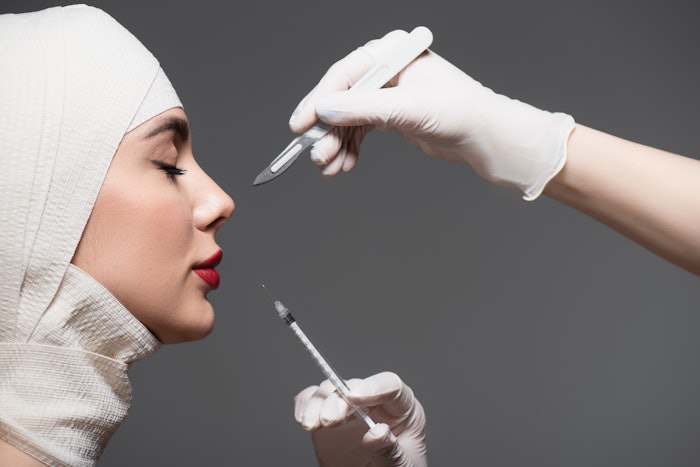 The Future of Medical Aesthetics
I had the pleasure of attending the Merz Aesthetics Expert Summit in Vienna, Austria November 18th-20th, 2022. This global meeting of the minds featured experts from across the globe presenting the latest innovations in medical aesthetics. During a particularly enlightening roundtable discussion, featuring Bob Rhatigan, CEO of Merz Aesthetics, Terri Phillips, M.D., U.S. chief medical affair officer for Merz Aesthetics, aesthetic physician Kate Goldie, M.D., dermatologist Jeremy Green, M.D., dermatologist Martina Kerscher, M.D., dermatologist Je-Young Park, M.D., and dermatologist Luiz Perez, M.D., came together to discuss the future of medical aesthetics in our evolving patient-centric culture.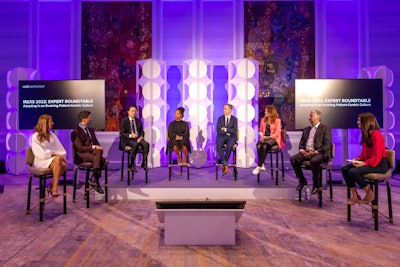 Related: Merz Aesthetics Names Teyana Taylor New Xeomin Brand Partner

The medical aesthetics industry is in a period of exciting change. The rapid advances in technology and treatment innovations combined with increasingly better educated patients is driving widespread shifts in the overall focus and approach to the practice of medical aesthetics. Emphasis is moving away from short-term treatments to long-term, regenerative aesthetic treatments, prejuvenation or preventative treatments that maintain healthy, youthful skin and enhancing an individual's unique features to achieve natural-looking results that celebrate diversity, in addition to expanding what medical aesthetics encompasses and who it serves.   
1. Regenerative Aesthetics (Long-term Anti-Aging):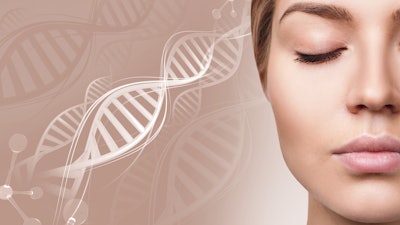 Regenerative aesthetics is truly the future of medical aesthetics. Covid played a major part in highlighting the advantage of moving toward long-term solutions to aging and preserving health and beauty. The importance of experiencing life was highlighted by the time spent isolated due to the pandemic, particularly as it relates to taking better care of ourselves and preserving our health and beauty so we can live life to the fullest.
Consumers are becoming better informed, with patients asking for biostimulation and focusing on treatments that regenerate damage caused by the aging process, more interested the long-term affects of treatments that result in healthy cell regeneration and healthier tissue versus immediate, short-term change. Kate Goldie, M.D., discussed the importance of regenerative aesthetics in the keynote session "Turning Back the Clock." During our interview, she explained how the medical aesthetic industry evolved from relying on rejuvenation treatments for anti-aging to entering the realm of regenerative medicine tailored for aesthetics.  
"We would do things that just affected aesthetics and so our techniques were based around that. I think you can see today that our techniques are doing something profound in tissues. We already knew this in mainstream regeneration, but it has taken a while for us to understand that we can do that in aesthetics," Goldie explained. She went on to emphasize the importance of differentiating regeneration and rejuvenation, two terms with very different definitions that have been used somewhat interchangeably in the media as regenerative aesthetic technology has developed from a possiblity to a reality.  "However, we also need to lay some groundrules as to what counts as regenerative. Regenerative is a scientific word with a specific meaning tied to it. Regeneration is not the same as rejuvenation. It constitutes a specific process that has a specific outcome," said Goldie.
Related: The One-Hour Incisionless Facelift Uses the Power of Regenerative Medicine with Stem Cell/Exosome and Coolaser Technology
Goldie explained that maintaining this distinction is vital to properly understanding and effectively developing regenerative aesthetic medicine, stating, "The first question we have to ask is 'what can regenerate?' If we want to measure to see if something is truly regenerating, it is important to maintain the scientific understanding of what constitutes regeneration. In order to ensure we are genuinely causing regeneration and doing it correctly and effectively, the tissue and cells have to regenerate in structure and function, so we can definitively say we are creating tissue that is like it was when it was younger."
Regenerative aesthetics is able to free people from being defined by an age category, so a person is not living as a "50-year-old," but rather living with the freedom to experience life's journey without feeling pigeonholed. Furthermore, these trends lend themselves to improved psychological and physical health in patients.
2. Achieving Natural-looking Results:
Increased emphasis on achieving natural-looking results is another significant development in the evolution of the medical aesthetics industry. Once again, this change is inspired by younger generations demonstrating an increased interest in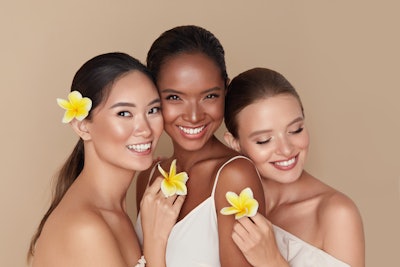 appreciating diversity and individual beauty. However, with the competing beauty trends on social media also vying for younger patients' attention, practitioners have an even greater responsibility to educate these younger patients on setting realistic expectations and what is attainable and will enhance their individual features versus what is unrealistic.
Social media can be a positive tool for medical aesthetics professionals to reach the younger demographics and educate them on platforms where they are getting most of their information. This helps open doors and start conversations, but social media is a double-edged sword, spreading celebrity beauty trends that younger patients then want to emulate. Practitioners can more ethically treat their patients who come in wanting to look like someone they saw on social media by better educating patients and setting realistic expectations.
This is a topic I actually covered in our October issue of MedEsthetics in relation to lip fillers. As I pointed out in this previous article, this is where practitioners must be able to interpret what a patient actually wants versus what they say they want. Sebastian Cotofana, M.D., Ph.D., lead author of "In Search of the Most Attractive Lip Proportions and Lip Volume: An Eye Tracking– and Survey-Based Investigation," published in Plastic and Reconstructive Surgery, spoke to this point. He explains, "When patients say to their practitioner: 'Please increase my lip volume' they actually mean: 'Please make me as attractive, as successful, as rich, as good looking as this celebrity I just recently saw on social media.' The practitioner needs to decode this and understand that patients want more attractiveness, not more fullness. Most likely the way to obtain more attractiveness is not via more volume, it's maybe via more contour or other procedures."
Related: New HA Filler for Nasolabial Wrinkles Improves Feeling of Naturalness

Practitioners must read between the lines to understand the patient's beauty aspirations and how to achieve these goals, setting realistic expectations that will result in a better experience for the patient, rather than try to achieve unrealistic beauty trends that will simply change with time. A significant aspect of achieving more natural-looking results is higher customization and personalization of treatments designed to enhance an individual's unique features. This also means respecting age and authenticity in older patients, rejuvenating and using regenerative aesthetic treatments to restore their natural beauty.
3. Embracing Diversity and Individual Beauty:
Building upon the increasing popularity of more natural-looking results, embracing diversity and individual beauty is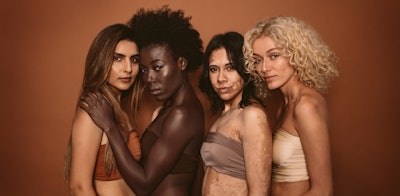 another important direction the industry is heading in. As with the move towards more natural results, this involves promoting and enhancing individual beauty rather than trying to replicate the look of someone else. Beauty trends change, making it necessary to treat patients as they are and not to follow a trend.
This movement toward celebrating uniqueness in beauty and diversity requires understanding and respecting the variations in anatomy of different ethnical features and utilizing the proper tools and techniques to enhance those features instead of attempting to change them. This is where the artistry in medical aesthetics really comes into play. Interest in better understanding the artistic aspect of cosmetic procedures is growing. Industry professionals are turning to makeup artists and the essential artistic concepts of how to utilize light and shadow to improve their understanding of how best to enhance a patient's individual appearance.
The keynote session Optimizing Light and Shadow in Aesthetics, featuring speakers Jani van Loghem, Ph.D., M.D., Rolf Bartsch, M.D., and Raj Acquilla, M.D., highlighted the impact a deeper understanding of how these artistic concepts can be applied to a human canvas can have on the results of aesthetic treatments and, in turn, patient satisfaction.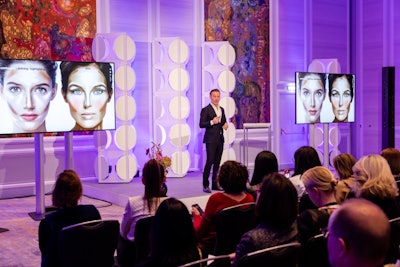 One size does not fit all and utilizing artistry in cosmetic treatments is an important area of education for professionals to avoid falling into the habit of trying to fit people into a certain mold. Thankfully, with today's rapidly evolving technology, innovations in devices, injectables and topicals to safely and effectively treat all skin colors and ethnical features are steadily increasing.
Another important element of this development is the diversification of groups being represented in the media. An example of this is the Merz Aesthetics "Beauty on Your Terms" campaigns for Xeomin, designed to empower men and women to embrace beauty on their own terms. You might have seen our coverage of Joe Jonas and Teyana Taylor joining the campaign as brand partners, bringing representation for men and women of color. Including a diverse group of patients and making sure everyone is being represented is vital to expanding the current defined beauty standards so they include ethnical variations. People need to see themselves being represented in media, particularly in the world of beauty, to see and appreciate the beauty in their unique features and ethnical variations.
Related: Allergan Aesthetics & Skinbetter Science Partner for The Forces of Beauty Report

The same holds true for the diversity of practitioners. People are much more likely to seek cosmetic treatments from a doctor of the same ethnicity or one known for treating their ethnicity simply because that physician is more likely to understand how to properly treat their skin color and ethnical features. This point was brought up in our November/December profile on Leslie Rohaidy, P.A.-C., in relation to her own patients and other women of color in Miami. As Rohaidy explained, "People needed someone that was a bit younger, female and a person of color and a minority to serve that segment of the community in an industry with primarily white male plastic surgeons."
4. Destigmatization of Aesthetic Treatments:
As the medical aesthetics industry has developed from a side specialty in medicine into its own specialty containing numerous subspecialties, the stigma once attached to cosmetic procedures has steadily decreased. This destigmatization has seen a particular surge in the wake of Covid, with virtual meeting platforms like Zoom and social media acting as significant driving forces behind this movement.
Covid drove home the importance of maintaining physical and mental health, with virtual communication forcing us to get a good look at the toll stress and unhealthy lifestyle habits can take on our appearance. Younger demographics, in particular, took this lesson to heart, resulting in a major shift toward a younger patient base in the medical aesthetics industry.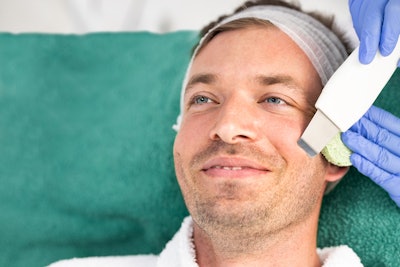 Prejuvenation treatments among the younger generations is seeing a major increase in popularity. Younger demographics are taking action to prevent loss of laxity in the skin before signs of aging are even visible, with a marked focus on the importance of experiencing life rather than material possessions. 
The growing interest in preventative treatments is part of a larger emphasis among young men and women to prioritize mental and physical wellbeing, with aesthetic treatments becoming normalized as part of a healthy self-care regimen. Taking care of our skin and appearance is another part of maintaining our overall health, with cosmetic treatments acting as an important part of that. "We aim to inspire women and men everywhere to prioritize self-care and embrace the freedom to make their own aesthetic decisions," said Patrick Urban, Merz Aesthetics President, North America. "You can still celebrate who you are and embrace desired treatments for anti-aging results."
This destigmatization is also connected to the increasing desire for more natural-looking results, as preventative treatments focus on taking care of one's appearance and skin so as to keep skin healthy and looks youthful before signs of aging develop. When it comes to maintaining an already youthful appearance, more natural-looking results are preferable, with younger patients interested in keeping their skin and bodies healthy with aesthetic treatments, but wanting to enhance and maintain their individual beauty. "Making the decision to have an aesthetic treatment was really about self-care and looking and feeling like the best version of myself," said 33-year-old Jonas.
Related: Feminization of the Lower Jaw in Facial Gender Confirmation Surgery

Despite the negative side effects social media can have on beauty standards and encouraging unrealistic beauty trends, it also serves as a powerful tool for positively and responsibly educating younger demographics. Industry professionals can use social media to watch out for their patient's wellbeing, looking out for dangerous beauty trends and making sure treatments are being performed in a safe and responsible way that prioritizes patient wellbeing, including the safety and ethical use of the products being developed. Keeping the medical aesthetics industry focused on patient safety and wellbeing will help continue this destigmatization of aesthetic treatments and further cement them as being another integral part of health and medicine in general.