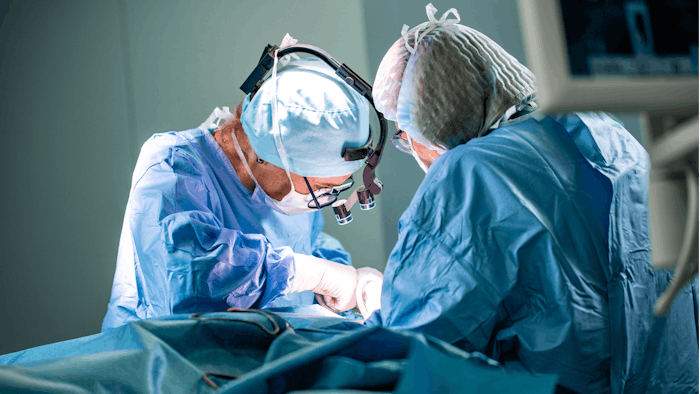 Patient safety is top of mind for practitioners and their staff, but medical providers must also consider their own health and safety. Surgeons, in particular, are at high risk of back injuries and chronic pain as a result of spending long hours on their feet, bent over patients in the operating room.
Related: Combating Burnout
In the May 2021 issue of Plastic and Reconstructive Surgery, Rod J. Rohrich, MD, et al, shared the following tips to help protect your spine and increase your stamina.
They encourage surgeons to use a lightweight headlight in rhinoplasty, while opting for a lighted retractor—when possible—in other cases,  as handheld retractors allow much more flexibility in terms of positioning your body, thereby reducing stress on the neck.
"When you are donning the equipment, it is a good idea to put it on yourself before scrubbing into the case to ensure everything fits properly and the focus of the light is where you need it without having to contort your body to make up for poor placement," they write.
Exercise should be part of every physician's regular routine, particularly posture-improving exercises and core strength training such as pull-ups, dead lifts, rowing-type exercises and abdominal core exercise, all of which help strengthen and support the spine and back.
Outside of the operating room, maintain good posture habits, including keeping your neck neutral and shoulders back when sitting. Sleep, hygiene and a healthy diet also play a critical role in daily recovery and career-long stamina.
When in the OR:
Use a back support stool and sit as often as possible, letting the OR table and stool do the work instead of your lower back
Stretch frequently
Position the patient and OR table in a way that makes you comfortable
Do not routinely rely on loupes and a headlight for every case
Limit hunching/flexing, which often occurs when standing and operating downward
During a long case of standing, make sure you flex and extend and stretch every hour to limit stiffness and stationary muscle fatigue
In addition, they encourage regular cardiovascular exercise to increase endurance and prevent long-term injury resulting from the stressful requirements of surgery. "Improved endurance through cardiovascular exercises increases stamina and improves concentration during long or difficult procedures, allowing for quality and consistency in patient outcomes while not adversely effecting surgeon health."