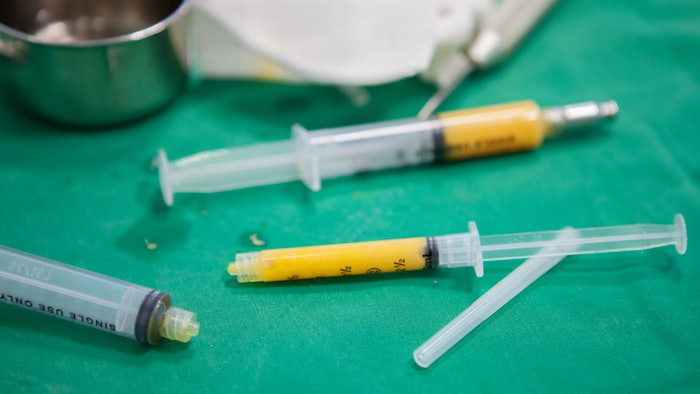 Subjects who underwent Injectable Tissue Replacement and Regeneration (ITR 2), a standardized technique for facial fat grafting, experienced progressive volume improvement following an initial volume loss, with significant differences among those over and under 55 years of age, per the outcomes of a study published in the Aesthetic Surgery Journal (November 1, 2021). 
Related: Facial Fat Grafting: A Step-by-Step Guide
Steven R Cohen, MD, FACS, et al, treated 29 female patients in the midface using ITR 2, which was developed to address both anatomic volume losses in superficial and deep fat compartments as well as skin aging by harnessing the regenerative abilities of fat grafting.
Related: Mobility of Superficial vs. Deep Fat Compartments in the Midface
The authors tracked patient outcomes for 19 months to determine the short and long terms effects the technique, using the Vectra XT 3D Imaging System to calculate differences between a predefined, 3D mid-facial zone measured preoperatively and serially after fat grafting. The data was analyzed collectively as well as separately by age (< and > 55 years).
The collective analysis revealed a trend of initial volume loss within the first one to seven months followed by an increase within the eight to 19-month range, ending at an average gain of 52.3% volume by 14 to 19 months.
Related: Investigators Identify Most Efficient Method for Fat Preparation
When examining the data by age, a similar trend was observed for patients <55 years of age, but to a greater extent, with a 54.1% average postoperative gain and final average of 75.2%. Patients >55 years of age showed a linear decay beginning at 60.6% and steadily declining to 29.5%.
The authors noted that, "this preliminary evidence shows a dynamic change in facial volume, with an initial decrease in facial volume followed by a rebound effect that demonstrated improvement of facial volume regardless of patient weight change or amount of fat injected 19 months after treatment."