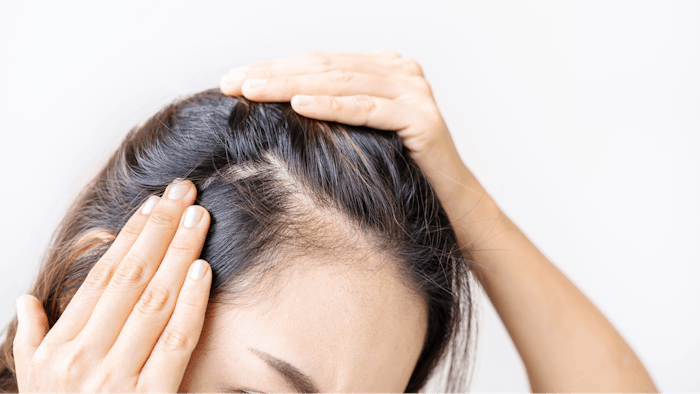 Amplifica has released research into a naturally occurring process for hair growth that has the potential to be groundbreaking in hair loss treatments. The study, "Signaling by senescent melanocytes hyperactivates hair growth," was led by Amplifica's co-founder and chief scientific officer Maksim Plikus, Ph.D., and published in the international peer-reviewed research journal Nature.
Related: Oral Minoxidil is Gaining Popularity as an Alternative Hair Loss Treatment
In the study, researchers analyzed how melanocytic skin nevi (commonly known as moles) develop hair overgrowth. Melanocytes are cells that produce pigment (melanin). Through genetic mouse models with the same genetic alterations seen in human moleskin, the study found that dermal clusters of senescent melanocytes drive epithelial hair stem cells to exit quiescence and change their transcriptome and composition. Researchers tracked the activity of hair follicle stem cells in moleskin over time and found that the excessive hair growth in these mice was driven by a shorter than typical time frame between consecutive hair growth cycles.
By analyzing the signals released by the mole's pigmented cells, researchers identified osteopontin as the leading nevus signaling factor potentially stimulating hair follicle stem cells. Osteopontin is overexpressed in human hair nevi and it stimulates new growth of hair follicles. Signaling by senescent cell clusters can potently enhance the activity of adjacent intact stem cells and stimulate tissue renewal.
To further test the hair growth effects of osteopontin, the research team administered a dose of osteopontin to human hair follicles in skin grafts that induced new growth. The findings identify senescent cells and their secretome as having significant potential use in regenerative medicine.
Related: Happy Head Designs FDA-Approved Capsule to Treat Hair Loss
"This publication is the result of nearly 10 years of research completed by the international team of scientists and we are delighted to have Nature recognize the strength of our results," said Plikus. "Of the signals released by senescent melanocytes, osteopontin appears to have the greatest effect on hair growth. The team plans to study other candidate molecules to fully understand this system and I am eager to see what other potential pathways to hair regrowth are revealed."
Frank Fazio, president and CEO of Amplifica, said, "The extensive research completed by Dr. Plikus and his international team of colleagues to potentially identify a pathway towards new hair growth is groundbreaking. The publication of these original findings in the leading interdisciplinary journal Nature further validates Amplifica's pipeline compounds and its plans to develop novel solutions to treat hair loss."
Amplifica is currently developing compounds for potential hair growth stimulation based on the findings, known as AMP-203. The company entered into an exclusive licensing agreement with The Regents of the University of California in 2019 to cover the inventions described in the Nature publication. Dr. Plikus is a professor of developmental and cell biology at the University of California, Irvine.