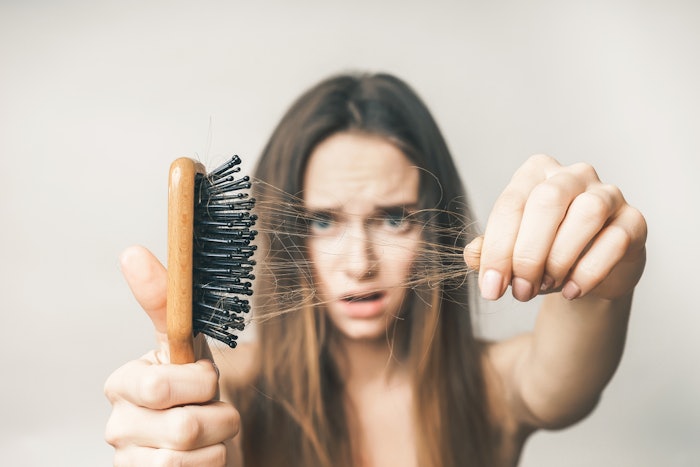 KeraLase, an in-office treatment that utilizes a combination of LaserMD Ultra and KeraFactorMD, restores scalp and follicle health to aid in the battle against rapid hair loss. 
The treatment restores scalp and follicle health to provide fuller, healthier looking hair. It has been used successfully in recent trials conducted by top physicians who have shared  their clients' results and experience.
James Bartholomeusz, an expert in the science and development of lasers for aesthetic technologies and the co-founder of KeraFactor, began experiencing scalp health issues, which led to hair loss. He teamed together with Dr. Amy Forman-Taub, and by using biomimetic growth factors as catalysts, the pair created the scalp stimulating solution. 
The non-ablative LaseMD Ultra creates tiny dry microchannels in the scalp, promoting increased absorption of the serum. With its growth factors and skin proteins for hair rejuvenation, the KeraFactorMD is an updated, improved version of the original KeraFactor serum, with an additional growth factor and two compounds that allow it to be further activated by Photodynamic Red Light Therapy.
Related: The Connection Between Hair Loss in Women and Various Health Conditions
The KeraFactorMD Treatment Serum combines an eigth polypeptide and two new compounds, PDRN (polydeoxyribonucleotide) and Proprietary NanoFluorosome Activation Technology, along with the previously patented KeraFactor Peptide Complex. 
The bioavailable version of the growth factor known as Follistatin is a binding and signaling protein essential to managing hair's life cycle. FST has been shown to accelerate results by "turning on" the anagen, or growth, phase of the hair. However, it had never been synthesized in an effective and bioavailable topical form, which is an additional reason why KeraFactorMD is unique. SkinQRI is the only company to have Follistatin available for a patented treatment in a topical formulation.
The third critical addition to KeraFactorMD is NanoFluorosomes, a potent anti-inflammatory and anti-androgenic compound encased in our nanoliposome technology, which reduces inflammation and follicle miniaturization.