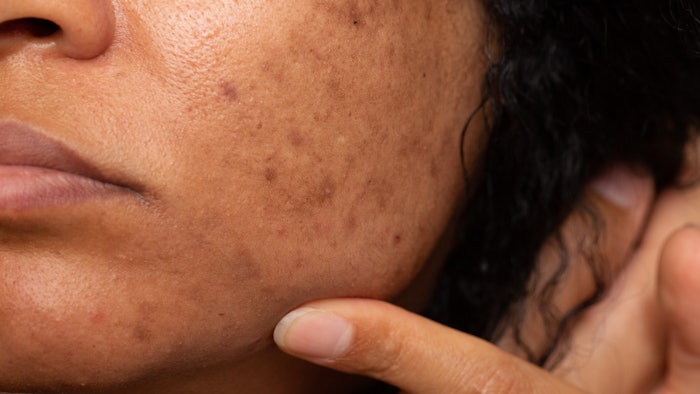 Alessandro Grandini - stock.adobe.com
Researchers have discovered a potential alternative to Kligman's Trio (KT), the gold-standard treatment for melasma, according to a 2023 study published in the Journal of the European Academy of Dermatology and Venereology. The study sought to compare the efficacy of a New Trio (NT) combination cream containing isobutylamido-thiazolyl-resorcinol, retinoic acid and dexamethazone compared to the standard KT cream. According to the study, the NT cream was efficacious in treating melasma and KT's efficacy has yet to be matched by alternative therapies.
Related: The Efficacy and Safety of LQS Nd: YAG Lasers on Melasma
The controlled, double-blinded, randomized and prospective study was conducted from November 2021 to September 2022 in a single study center in France. Upon inclusion, patients were randomized into two groups, one of which received NT cream while the other received KT cream. Both combination creams included 0.1% retinoic acid and 0.1% dexamethasone; however, NT cream contained 0.1% isobutylamido-thiazolyl-resorcinol, while KT cream contained 5% hydroquinone.
Patients applied the assigned cream to their faces on a once-daily basis for a 12-week period and were evaluated by a dermatologist at weeks 12 and 24 in accordance with the Modified Melasma Area and Severity Index (mMASI), MelasQoL, Common Terminology Criteria for Adverse Events (CTCAE) and Visual Analog Scale (VAS), per the report.
Between the assessments at baseline and week 12, patients in the NT group had an average 63% improvement in mMASI score, while patients in the KT group had an average mMASI score improvement of 39%. At week 24, mMASI scores from both treatment groups had increased from week 12, which investigators attributed in the study to relapse upon discontinuation of treatment.
Researchers used the original Kligman's formula as the comparator for this study, however, many physicians are currently using the modified Kligman formula, which usually provides better tolerance. The researchers decided to keep the original formula for this study because it contains a higher concentration of hydroquinone and tretinoin, making it potentially more effective than the modified version. It was also noted in the study that the NT is at least as effective as the most potent Kligman Trio.
Regarding quality of life, patients in the NT treatment group had a –12.57 average improvement in MelasQoL score at week 12 and an average improvement of –6.95 at week 24. Patients in the KT treatment group had a –6.66 average MelasQoL score improvement at week 12 and a –3.67 average improvement at week 24.
Of 97 reported adverse events, 3 were deemed medically significant but unrelated to treatment. Treatment-related adverse events included acne, desquamation, erythema, hypertrichosis and irritation, with nearly equal incidence in both groups.
The study concluded that the NT combination demonstrated efficacy and significant improvement in the quality of life in treating melasma patients, making the approach a significant potential alternative to Kligman's Trio.