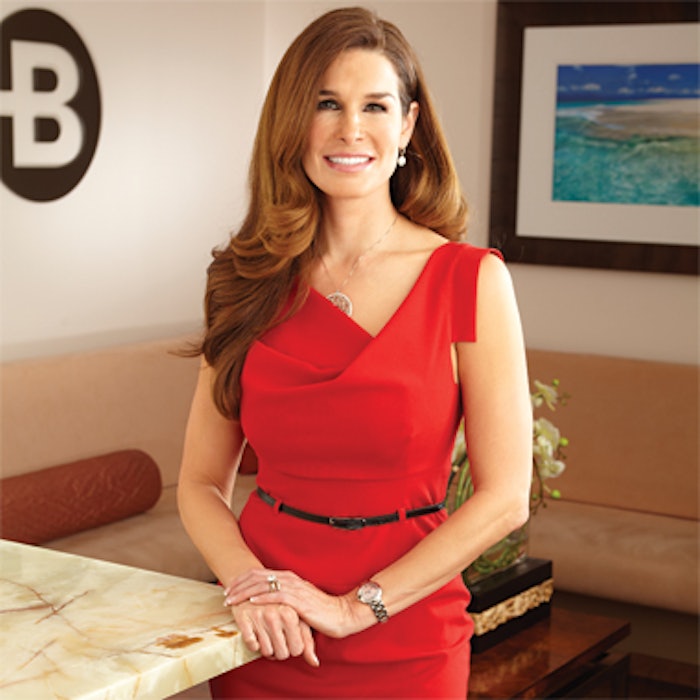 Dermatologist and dermatologic surgeon Anna D. Guanche, MD, entered medical school with her sights set on becoming an orthopedic surgeon in the field of hand microsurgery, until a friend persuaded her to do a two-week rotation in dermatology. "The morning of my very first day of rotation we did laser resurfacing, a lip filler and a large skin cancer surgery on the abdomen," she recalls. "I was dumb-founded. I could not believe that we could do all these procedures in dermatology." At lunchtime, she called her husband to tell him she would be changing her specialty. "I knew I would never be bored. I love detail work—that's why hand microsurgery appealed to me—but this allowed me to do more than one area of the body," says Dr. Guanche. "I can make people feel good, and it's artistic, which was something I wanted from the very beginning."
Customized Care
After obtaining her medical degree at Louisiana State Medical School and completing her residency at the University of Minnesota Medical Center, Dr. Guanche worked in a dermatology office in Thousand Oaks, California, for three years. The desire for more freedom and a location closer to her home and two children led Dr. Guanche to launch her own practice in Calabasas, California. "It's sort of like growing up," she says. "You go through a bit of being a kid, and then you get growing pains and decide you have to do your own thing."
Ten years later, she is the owner of the Bella Skin Institute, a dermatology practice that specializes in medical dermatology, noninvasive cosmetic procedures and esthetic facial treatments. She credits the practice's success to its focus on creating customized treatment options. "Each face is different and each person's goals and budgets are different. I have a lot of different devices so I can create the right treatment for each person," says Dr. Guanche.
Some of her most popular noninvasive procedures include IPL, CoolSculpting (Zeltiq, coolsculpting.com), Velashape cellulite treatments (Syneron, syneron.com), Fraxel skin resurfacing (Solta Medical, fraxel.com), laser hair removal, the VBeam laser for vascular concerns (Syneron-Candela, syneron-candela.com), Thermage radiofrequency skin tightening (Solta Medical, thermage.com), and Ultherapy ultrasound-based skin tightening (Ulthera, ultherapy.com).
"Eyelid surgery, blepharoplasty and mini-facelifts, along with skin cancer surgery are the most invasive procedures we do," says Dr. Guanche. "We have celebrity clients, moms, families and kids. It's a varied patient population, so we try to have a procedure for everyone. My favorites are fillers and Botox because they have minimal down time, are high yield, and the patients look so much different afterwards, they are so excited about it."
[pagebreak]
Building a Business
Dr. Guanche describes her current staff as her "dream team," but points out that mastering practice management did entail acquiring a new skill set. While doctors spend many years learning how to care for patients, starting your own practice requires an entirely different type of training to address topics such as: How will you set up your business; how will you market it; how will you put protocols in place; and how will you hire and train the right people who will treat patients the way you want them to be treated?
"I think, in general, the staff follows the leader," says Dr. Guanche. "If the leader is good to her patients, then that flows through the staff." She based many of her business strategies on the book Book Yourself Solid, which she discovered early on in her career. "It helped me realize that you must implement policies with clients, and stick to them," she says. "It also helped me to garner my and my staff's efforts in pleasing and pampering the clients. Clients need your best efforts, and they will bring their friends."
The book also helped Dr. Guanche fine-tune her practice-building strategies. Rather than casting a wide net, she focused on building the patient base that she wanted. "It's a directed way of working," she says. "You focus your efforts on the clients you want to attract. I shifted my practice, and now we're there. The people I see every day are people I would hang out with. Coming to work feels like fun."
Dr. Guanche believes that taking this type of a personal approach with patients is the best way to build and maintain a healthy business. "I always make a connection with my patients. I am interested in them because they are interesting people," she says. "I want to know about them, and they feel it. It's not just a business where you come in and get your procedures done. I know entire families—the little ones for warts, the older ones for skin cancer, and the ones in the middle are coming in for fillers and Botox."
[pagebreak]
Building these types of long-term relationships starts by focusing on patient satisfaction. Dr. Guanche schedules every patient for a follow-up within one to two weeks of treatment. "I like patients to come back for a follow-up, because once everything settles down, they may want a little adjustment," she says. "I almost always do touch-ups at no charge. My goal at the end of the day is to have a happy patient who looks beautiful. I always proactively schedule patients instead of waiting for them to call, because I find that sometimes people are shy and don't call back. They may not want to complain but those are exactly the patients that I want to keep."
Although a large percentage of her cosmetic clients are acquired through word of mouth, Dr. Guanche maintains an active marketing program that includes Google ad words, an SEO-optimized website and print ads in local magazines. She also writes for a local magazine, which increases people's familiarity with her business, and purchases space in backlits—which are similar to small billboards—in the local commons shopping area.
"I have done more national advertising, but I find that local marketing is more effective. Some clips of me were on Oprah and, interestingly, when that happened I told my receptionist to be ready for a lot of phone calls, but that exposure generated less phone calls than my appearances on the local KTLA news," says Dr. Guanche. "When you are in a local magazine, people think you are more accessible and actually call and come in. So I changed my marketing strategy based on experience. I would say, focus on your community first, and then slowly branch out. If you have a limited budget, market to your core audience and get a reputation going. It can branch out from there."
Dr. Guanche uses a reminder program called SolutionReach (solutionreach.com) that sends reminders a minimum of once a year to patients in her database. It also sends email, text and phone reminders to alert the patient to upcoming appointments. "Working to get a new patient is a lot harder than retaining and keeping patients happy, so we reward the big spenders every quarter by giving them a discount for the following quarter," says Dr. Guanche. "It helps us show our appreciation and garners loyalty."
[pagebreak]
Utilizing Downtime
As with any business, there are slow days. Dr. Guanche has learned over the years not to panic and instead to channel her downtime into creative endeavors, like networking in the community, developing a new marketing strategy or improving work flow. "Every time I have downtime, I am trying to make my flow better, find a better way of charting, of reaching out to patients or develop new marketing," she says.
Key to staying booked in the highly competitive LA market is keeping up-to-date on the latest advances. Dr. Guanche achieves this by staying active in the dermatology community through dermatologic societies and academia. She is a clinical professor at the UCLA David Geffen School of Medicine and volunteers at UCLA Olive View. "I love to be around the residents," she says. "They are young and vibrant, and they teach me as much as I teach them. I have been in practice for over 10 years, so I teach them clinically through my experience with patterns and conditions in the skin and how to approach them, and they teach me a lot about the newest drugs and regimens. It keeps me connected with the academic community, and it's a way of giving back."
Though medical aesthetics has become increasingly competitive, Dr. Guanche advises new private practice physicians to think about the type of practice they want to be running in the long-term, rather than grabbing any business that is available. "You are going to be stressed, because you have a financial commitment you have to meet," she says. "But keep in mind that you should be spending time and putting effort and energy into the clients that you want to be around and that you want to work with."
Janine Ferguson is a Los Angeles-based freelance writer.