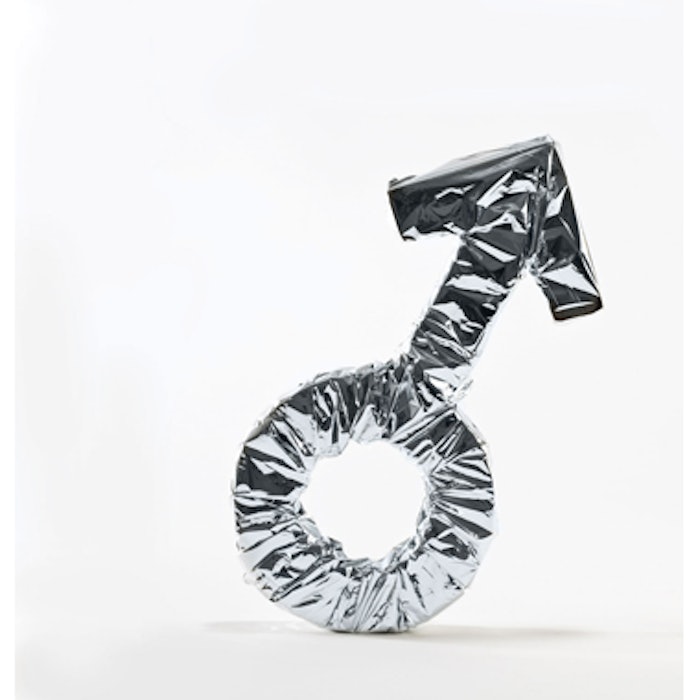 American men are more aware of their appearance than ever—and also more open to the idea of cosmetic enhancement. A recent survey by the American Academy of Facial Plastic and Reconstructive Surgery (AAFPRS) found that nearly one-third (31%) of men are extremely likely to consider aesthetic treatment. Yet they account for only 9.3% of surgery patients and 8.9% of those seeking minimally invasive procedures, according to 2016 statistics from the American Society of Plastic Surgeons (ASPS).
This suggests many men are interested in aesthetic procedures—but not actively seeking them out. While men still make up only a fraction of medical cosmetic patients, "it's no longer just women dragging in their spouses or significant others," says Tina Alster, MD, director of the Washington Institute of Dermatologic Laser Surgery in Washington, D.C. "The male market is an untapped market, but it's also a challenging one. The potential is there, but that doesn't translate into people pouring in to practices."
So how can practitioners motivate men to move past curiosity and enter consultation? Experts offer these tips to expand your male patient base.
A Place of Their Own
The first step to growing a male patient base is to create a non-intimidating environment. "Let men know they are welcome," says Dr. Alster, who in 2013 co-founded W for Men, an offshoot of her existing dermatologic laser surgery practice. It was the nation's first cosmetic and dermatologic laser surgery center for men. "It was obvious that more men were interested in these services, but they didn't have a venue," she says. "We gave men a place where they'd feel more comfortable." She installed male-friendly décor, featuring whites and grays with a clean aesthetic, hired a male nurse and created educational videos featuring male patients.
In 2015, Grant Stevens, MD, Medical Director of Marina Plastic Surgery in Marina del Ray, California, launched Marina ManLand next to his plastic surgery practice. The "just for men" location features décor that is a cross between a sports bar and a smoking lounge with leather chairs and flat screen televisions in every room. The facility includes aptly named treatment rooms, such as Brotox for injectables, the Bear's Lair for laser hair removal, the Lion's Den where patients receive NeoGraft hair replacement treatments, and the Dog House, which offers relaxation treatments. In addition, the facility offers CoolSculpting noninvasive body contouring and miraDry sweat and odor reduction treatments. "The idea came to me because I was seeing more male clients than female for CoolSculpting, and the men were telling me that they wanted less hair on their backs and more hair on their heads," said Dr. Stevens.
Both doctors say it's not enough to build a separate office or waiting area, practitioners also need to use internal and external marketing strategies to attract prospective patients. After opening the new facility, Dr. Stevens ran radio ads promoting his most male-friendly procedures.
David Shafer, MD, of Shafer Plastic Surgery & Laser Center in New York says about 30% of his current aesthetic patients are men. He focuses on social media for his external marketing efforts. "We use Instagram to show that men are having these procedures too," he says. "There are also opportunities to bring in more males from our existing patient population by promoting services for men in-house."
Vic Narurkar, MD, director and founder of the Bay Area Laser Institute in San Francisco, also focuses on social media marketing to attract male patients. "I put before-and-after photos of male patients on Instagram, Facebook and our website," he says. Although he describes his office as gender-neutral, he disagrees with the idea that having a male décor has benefits. "The best marketing tactic is to have men in the practice and in your marketing that they can relate to," he says. Men now make up about 15% of his aesthetic practice, up from 5% five years ago.
Most Popular Procedures
Historically, the concerns that bring men to an aesthetic practitioner's office are gynecomastia, facial aging and hair loss. "Men really start paying attention to their looks when they start losing their hair," says Dr. Alster.
In October 2016, Dr. Narurkar and colleagues published a paper in Dermatologic Surgery on cosmetic concerns among potential male patients. "The universal factor that bothers men and women the most is the area around the eyes," he says. Among his male patient base, Botox procedures are the most popular treatments, followed by laser resurfacing and CoolSculpting.
"The eyes are important, but for men the neck is becoming really important too," says Fred Fedok, MD, a facial plastic surgeon based in Foley, Alabama and president of the AAFPRS.
In addition to maintaining a more youthful appearance, men also seek out procedures that enhance masculine features, such as Kybella (Allergan), which can help create a more chiseled jawline, says Dr. Shafer.
Dr. Stevens now has nine CoolSculpting machines in his practice, and they have created opportunities to introduce men to the benefits of skin care. His practice offers free facials during CoolSculpting. "The first one is free, and then they come back regularly," he says. "Opening the front door is the hardest part, but once men come in they are able to ask about other options. My surgeries went from 10% male to 20% male in the last three years," he says, noting that noninvasive procedures help to "demystify" surgery for both male and female patients.
Converting Prospective Patients
The beauty industry is heavily focused on women, with far fewer marketing dollars being spent on advertising treatments to men. Thus, there continues to be an educational gap between men and women, with men lagging behind in their knowledge of available treatments and procedures. "Women are much more sophisticated," says Dr. Stevens. "A more thorough discussion of individual risks may be necessary with male patients. We lay out the expectations and explain the risks and possible complications. I don't wear my white coat; instead I talk to them like another guy."
Dr. Narurkar and Dr. Shafer find that men, generally, prefer a simple solution with minimal downtime. "Men look for short downtimes and low side-effect treatments," says Dr. Shafer. "Women, on the other hand, don't mind a longer downtime with a great result."
"Unlike women, who may have a very specific procedure in mind, men tend to say, 'What can you do to make me look the best I can without a long recovery?'" says Dr. Narurkar. "Among men the motto is 'less is more.' If you put them on a dedicated skincare regimen and they see the results, they become more amenable to other services that we offer in the practice."
Meeting Expectations
Regarding expectations, it's important to educate the patient on what is achievable as well as potential risks. "Men in general tend to be less tolerant of imperfections than women," says Dr. Fedok.
Men can also be more impatient and less inclined to come back for follow-up appointments. "If they're not properly informed about what is required to achieve the desired result, you will lose them," says Dr. Narurkar. "Women have much more patience to go from point A to point B."
Perhaps due to hesitation to enter a cosmetic practice, practitioners do find that once men make contact and begin treatment, they tend to be very loyal patients. "Once they establish a relationship, they never stray or shop around," says Dr. Narurkar. "So the key is building that relationship."
He has seen a change in the age range of men seeking cosmetic enhancements and encourages practitioners to remember that male rejuvenation in no longer merely about looking young. "It's about helping men look their best for their age—whether they're in their 30s, 40s or beyond," says Dr. Narurkar.
The first step for practices hoping to build a male patient base is to create a non-intimidating environment and be patient. "You want to eliminate the doors or gates by letting men know they are welcome," says Dr. Alster. "Then you have to use your marketing to 'fan the flames,' keeping in mind that building a new patient base is a slow burn."
Stephanie Kramer is a freelance writer who specializes in healthcare topics.
Image copyright Getty Images