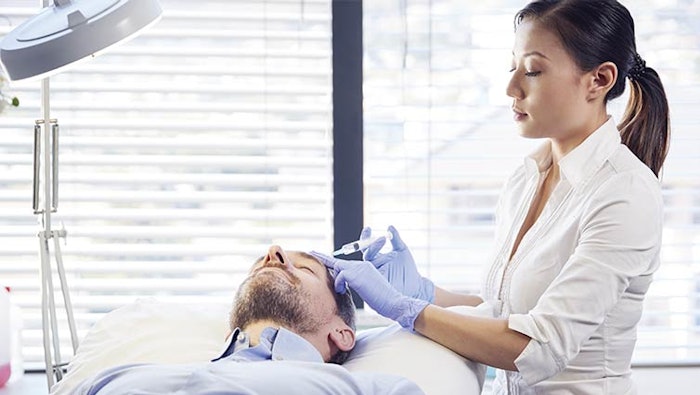 Are you looking for a way to expand your medspa or aesthetic practice? If your practice is like most, it is marketing to only 50% of the potential aesthetic market. Women have long been—and remain—the primary customer base for aesthetics. But, ignoring men means you may be missing out on a 10% or greater growth opportunity. According to the American Society of Aesthetic Surgeons annual procedure statistics, in 2019 male patients accounted for 10% of botulinum toxin treatments, 10% of laser skin resurfacing treatments and 12% of noninvasive body contouring procedures.
Men of all ages are showing interest in aesthetic procedures, often to help them stay more competitive in the job market and on the social scene. This is reflected by the steep growth in the Men's Personal Care Market, which is growing at a compounded annual rate of 5.4% and is projected to reach $166 billion in 2022.
It is not only outcomes that are driving men to medspas and aesthetic practices. They are also becoming more interested in self-care, according to Jim Croghan, CEO of Identity Hospitality. "Men are becoming increasingly aware of the health and wellness benefits that these treatments offer. In most cases, they are overworked, stressed and tired, so they're looking for a respite from the craziness of their jobs and family life, and appreciate the calming atmosphere that spas provide," he says.
Reaching Male Patients
The fastest, least expensive and most effective way to make more men aware of your treatments and services is to tap your internal database. A significant portion of your female patients have husbands, boyfriends, fathers, brothers and sons, all of whom are prospective patients. Therefore, it's important to include pictures of men as well as women in your print and digital marketing materials and in your waiting room video loops.
Train your staff to discuss male treatment options with female patients. Host educational open houses and invite your existing female patients to bring the men in their lives to the event. An example of a men's event is an Olympics or sports-themed event that includes drawings for cigars or sporting event tickets or even a sports car as the prize.
Cheryl Whitman is founder and CEO of Beautiful Forever, an aesthetic business-consulting firm, and the Beautiful Forever University training program for medspas, and author of Beautifully Profitable, Forever Profitable. Contact her at cheryl@beautifulforever.com, 561.299.3909.
Continue Reading how you can get more men into your practice in our Digital Magazine...