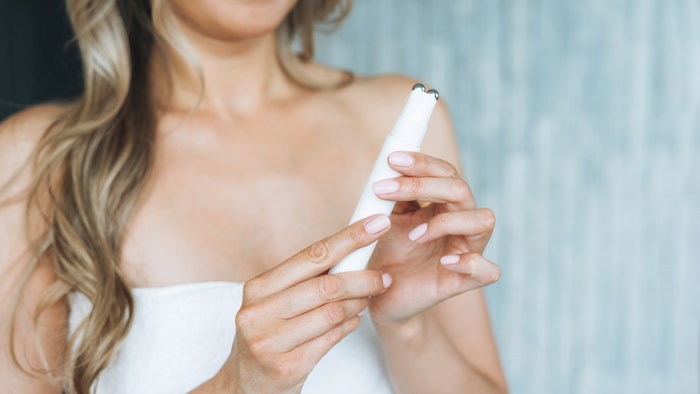 Devices continue to be a leading area of growth in the spa industry, but there has also been a rise for devices outside of the treatment room. More specifically, app-connected devices continue to get a lot of attention from consumers. 
A Kline report shared that they've seen a shift in consumers extending their time between their visits to dermatologists and spas in favor of maintaining an at-home skin care regimen through the use of beauty devices. These app-connected devices help consumers achieve a more personalized treatment experience, while also providing an affordable maintenance option. 
Related: Demand for Skin Care Devices Grow with Market Increases
Bringing Devices Home
What does this mean for the spa though? This is still a great opportunity for you to showcase yourself as the professional and educate your clients on which devices and apps are worth it. Even more so, get them set up on a treatment plan on an app-connected device for their home care regimen to help them understand that these devices cannot replace your expertise, but simply amplify their treatment results. 
We all know how important home care is when it comes to treatment results. Let the use of these app-connected devices be a gateway to better home care and, therefore, better treatment results for your clients. 
Home Care Spa Devices
There are plenty of devices on the market that are spa friendly, and we've outlined a few options of skin care devices that can work with you and not against you in your business. 
7eWellness. This brand recently launched the QT+ App that actually allows spa professionals to customize home care treatment plans in the app for their clients. This is an excellent option for your retail space, as it identifies you as the spa professional and gives your clients the chance to essentially take you home with them. 
Nuface. NuFace is fairly well known for their microcurrent-based devices that connect to their app. Consider using this device in the treatment room as an add-on service or part of a hi-tech facial, but also offer this to your clients as a retail item and guide them on how to use it at home to keep up with their skin maintenance. 
Foreo. This is another great option for an app-connected device that can be utilized in the treatment room or sold in the retail space. Again, what makes these types of devices from Foreo special is that your clients can fall in love with them during their treatment, and then you can show them options for home use. 
Remember, when offering these aesthetic devices as home care options to explain that the use of them is more about skin maintenance between treatments, but they do not act as a replacement to you. 
Related: The Benefits of Hand-Held Devices
Hi-Tech Beauty
At the end of the day, the beauty device market is booming and consumers are increasingly interested. Don't shy away from explaining the use of these devices to your clients. Help your clients understand that you and the devices work in tandem, not in place of each other, and show them how you can still improve their overall skin health and bring them to their goals with only things you can offer in your treatment room. 
These hi-tech devices are not going anywhere, and more and more companies are continuing to catch on to the trend. So, it's best to adapt with them and help your spa business grow.