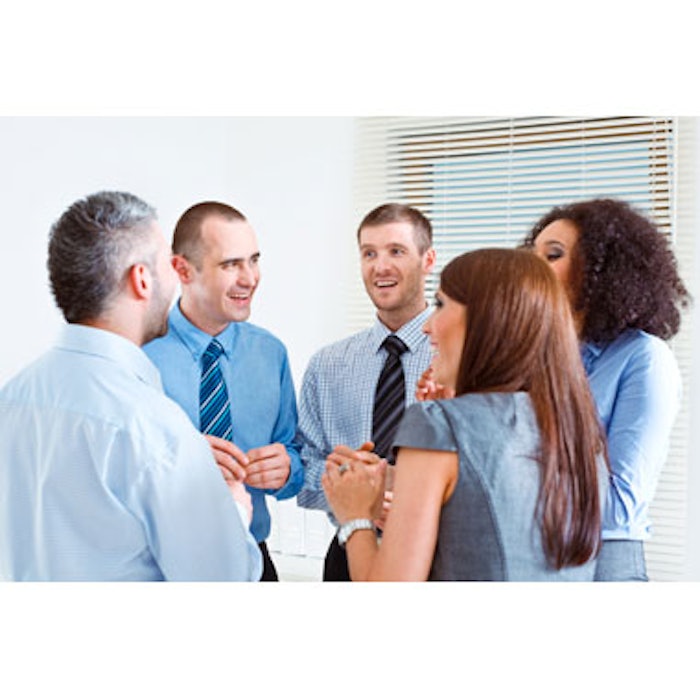 Chairs provide great support during long meetings, but they may also be holding us back, say researchers from the Olin Business School at Washington University, St. Louis.
Andrew Knight, PhD, assistant professor of organizational behavior at Olin, and Markus Baer, PhD, associate professor of organizational behavior at Olin, designed a study that asked participants to work together in teams for 30 minutes to develop and record a university recruitment video. The teams worked in rooms that either had chairs arranged around a table or with no chairs at all. After making the videos, research assistants rated how the teams worked together and the quality of the videos, while the participants rated how territorial their team members were in the group process.
The participants wore small sensors around their wrists to measure "physiological arousal"—the way people's bodies react when they get excited. When a person's arousal system becomes activated, sweat glands around the feet and hands release bursts of moisture. The sensors pass a small current of electricity through the skin to measure these moisture bursts.
Knight and Baer found that the teams who stood had greater physiological arousal and were less territorial about ideas than those in the seated arrangement. Members of the standing groups reported that their team members were less protective of their ideas. This led to more information sharing and higher quality videos.
The paper, "Get Up, Stand Up: The Effects of a Non-Sedentary Workspace on Information Elaboration and Group Performance," was published online June 12 in the journal Social Psychological and Personality Science.
"Seeing that the physical space in which a group works can alter how people think about their work and how they relate with one another was very exciting," Knight says.
He encourages organizations to experiment with their office spaces. Removing chairs and adding whiteboards are low-cost options that encourage brainstorming and collaboration. In his own office, Knight uses an adjustable-height desk so he can sit or stand and tries to minimize time spent seated in meetings. He is now experimenting with walking meetings too.
Image copyright istockphoto.com