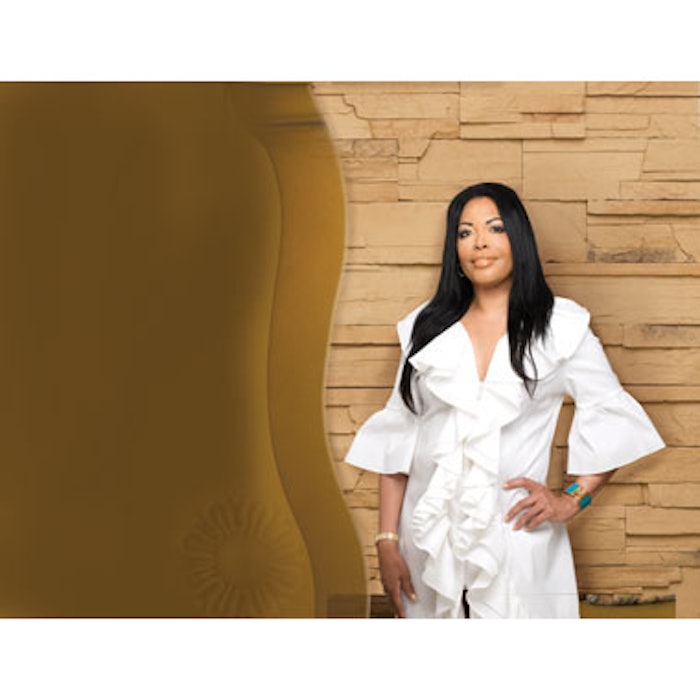 When Wendy Roberts, MD, applied to Sarah Lawrence College in New York, a career in medicine was far from her mind. "I was going to major in dance," she says. "I danced for the Dance Theatre of Harlem and the Garden State Ballet."
Once enrolled at Sarah Lawrence, however, her dream hit a snag that changed the course of her career. A number of students had matriculated early and snapped up all the open spots in the dance courses she needed. "I was hysterical. I didn't know what to do," she says. "In order to fill my schedule, I had a choice to take either German philosophy or chemistry. I took chemistry and excelled at it."
Dr. Robert's grandfather was a chemistry teacher. "He told me that the world didn't need another black dancer. He said I was gifted and needed to go to medical school," she says. She changed her major and was accepted into Stanford University Medical School. After completing a dermatology residency at Los Angeles County King Drew Medical Center, Dr. Roberts began a fellowship in dermatopathology at New York University Medical Center.
"I love beauty and I love the microscope," says Dr. Roberts. "Dermatology allowed me to blend those interests with surgery." She pursued a dermatopathology fellowship so she could read her own slides without having to rely on others. "When I did a biopsy, I wanted to know the diagnosis myself," she says. "I didn't want to send the slides out. I wanted to see the patient, diagnose him, treat him, biopsy him and read the slides." This desire to care for patients from diagnosis through recovery gave Dr. Roberts the impetus to open her own private practice in Rancho Mirage, California, 23 years ago.
Today, she is the director of Wendy E. Roberts, MD; founder and course director of the Generational Dermatology (G DERM) Palm Springs Symposium, a four-day annual conference that focuses on medical, surgical and aesthetic dermatology; and Palm Springs Life magazine has recognized her as a "Top Doctor" for 12 consecutive years.
Generational Dermatology
Dr. Roberts was working in academics at Loma Linda Uni­versity in California when the opportunity to branch out on her own first arose. A colleague asked her to cover his practice on the weekends and, through him, she learned that a local dermatologist was interested in selling a failing practice in Rancho Mirage. "It was great because I got a really good deal. The downside was, I didn't have any patients so I had to build it from the ground up," she says. "People thought I was crazy, but it was a fun process."
Her philosophy of preventive care—which she refers to as "Generational Dermatology"—helped her attract a loyal patient base. "It involves combining medical, cosmetic, surgical and oncologic strategies over the decades of a patient's lifetime to optimize skin performance," she says.
She analyzes patients' skin, hair and nails, and monitors the changes that occur over time. Her treatments are based on the four levels of preventive care, which she described in the Journal of Drugs in Dermatology (December 2013). Primary prevention reduces the risk factors before a disease or condition occurs. Secondary prevention allows for early detection while the patient is asymptomatic, in order to prevent, postpone or attenuate the condition. Tertiary pre­vention involves treating an existing symptomatic disease to alleviate it or delay its progression. Finally, quaternary preventions mitigate unnecessary/excessive interventions.
"Generational dermatology is all about practicing in the primary and secondary versus tertiary and quaternary levels," she says. "It's like that movie Back to the Future. If you could go back 20 years in time and counsel your patients, what would you tell them?
"First, you would want to know if they look like anyone in their family," she continues. "These relatives can show you what's coming down the road. Does the patient have hair loss patterns like his father? Does she have skin texture or nails like her mother had?"
Photography by Cory Sorensen.
[pagebreak]
Dr. Roberts calls this "deep medicine," because it allows her to get to the heart of each individual patient's physical history. Based on this information, she develops a completely customized treatment protocol with the goal of maintaining their skin health and putting them on the path to healthy aging. "My patients tell their friends and family that I went over them head-to-toe and am going to keep their skin from looking aged," she says.
A New Skin Classification System
To help her select the best and safest treatment options, Dr. Roberts created the Roberts skin type classification system, which expands upon the iconic Fitzpatrick skin type scale. It is a four-part classification system in which the clinician evaluates four quantitative and qualitative elements of skin type and behavior—phototype, hyperpigmentation, photoaging and scarring. The Roberts skin type evaluation includes a review of ancestral and clinical history, visual examination, test site reactions, and physical examination of the patient's skin.
She began developing the system her first year in practice after a blonde-haired, blue-eyed patient underwent laser treatment. Dr. Roberts used the Fitzpatrick scale to determine treatment settings; yet the patient returned a few weeks later with significant post-inflammatory hyperpigmentation. "She did not reveal her Middle Eastern ancestry," says Dr. Roberts. "I learned that it's not enough to look at a person and think you know how their skin is going to behave. I want to know how their skin is going to respond."
Private Practice Challenges
As a solo practitioner, the biggest practice management challenge for Dr. Roberts is spending adequate time with patients to provide optimal care while also maintaining an efficient office that runs on time. "I see all the patients myself, and I believe in spending quality time with them," she says. "At the same time, you need to see enough patients to generate enough revenue to survive and become profitable. It is a balancing act."
The key to making it all work, she notes, is finding the right staff members. "Once you find them, reward them," she says. "Get them invested in the practice and invested in you. Your office culture is like a little country within a country. It changes as you grow, but we all understand our strengths and weaknesses and we all understand our roles."
She and her staff strive to give every patient the "Wendy Roberts Experience," which means every person who enters the practice leaves feeling better than they did when they arrived. It starts by offering a spa-like environment with soft lighting, beautiful furnishings, ambient music and special touches, like ice water served in crystal glasses. The second step is delivering top-notch service to every patient. "My No. 1 way of garnering new patients is word-of-mouth. Second is physician referrals and third—but the fastest growing—is social media," says Dr. Roberts. "You have to assume that every patient who comes into your office is going to leave your office and write a review on you. So do your best not to keep your patients waiting. Make sure your staff is helpful and polite, and seek to provide an overall great experience for every patient."
When she needs inspiration, Dr. Roberts looks to her first role model. "Everything I am, I owe to my mother. She was a single, working parent with two daughters. She worked every day, and the only time we could really spend time with her was in the morning watching her get dressed for work, doing her hair and putting on her makeup," she says. "That instilled in me at a very early age the work ethic that has carried me through my life and career."
She encourages residents to "Learn a lot. Embrace new fellowships when possible and seek to work with—and learn from—the best people. Don't chase money," says Dr. Roberts. "Money will find you when you're good, when you're excellent."
Shelley Moench-Kelly, MBA, is a freelance writer based in Newport, Vermont.
Photography by Cory Sorensen.